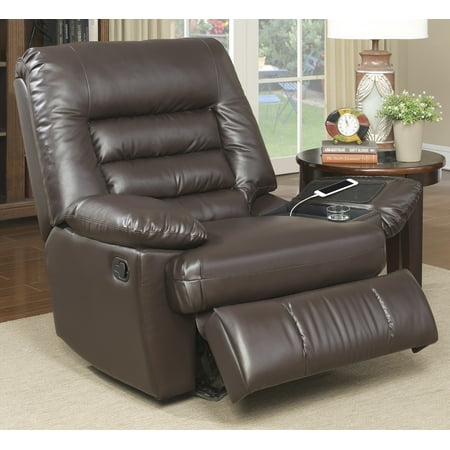 This sophisticated Serta Big & Tall Massage Recliner comes in an elegant espresso color. Featuring bonded leather, it brings a touch of traditional style to your home. This memory foam recliner is generously sized to give you maximum support. A high back construction ensures that your lumbar and thoracic area are comfortably accommodated. This dark brown recliner also comes with filled seat cushions for plenty of support. The built-in multi-setting dual motor provides a relaxing back massage, and you can customize it with the included remote control. An in-arm storage compartment provides space for a cup holder and USB charging port. Fingertip actuated recline controls make adjusting the seat easy, even when lying down for a nap. This Serta Big & Tall Massage Recliner can support up to 350 lbs of weight at a time
Serta Big & Tall Memory Foam Massage Recliner, Dark Brown:
Big and Tall Recliner supports up to 350 lbs
Deep soft body pillows with memory foam in seat
Memory foam recliner features fingertip actuated recline controls
In-arm storage compartment with cup holder and USB charging port
Multi-setting dual motor back massage with remote control
Bonded leather on all seating surfaces
Dark brown recliner features a kick out recline mechanism for relaxation
reviews
The only problem is the color in the picture of the product info is different than what you receive
My husband has a sports room and he wanted this chair for his room. It carries the Serta brand name and we find it to be very comfortable and nicely built. Well worth the money. This is a great find.
Ordered a pair of these. Picked them both up in my minivan! Super comfortable, massager works great and drink holder and usb charging port are very convenient. Back and seat are firm memory foam and foot rest is easy to open and close.
For price believe great value,me 70 overnight, comfortable chair, used pieces of wood to make higher from the ground knees hurt getting up and down,not sure if issue later appears to move a little to left and right?,but up and down appears very sturdy ,have had about 2weeks,am very content with product price also makes me happy
The chair is a lot more comfortable than I thought it would be. I saw it in the store at Walmart but they had it up high on a display so I couldn't sit in it to see how it felt. I could only push on the seat cushion a little with my hand and it wasn't very soft so I was concerned and didn't buy it then. I thought about it for a few days and then decided to order it anyway. I'm soooo glad I did. You kinda just melt into the seat and the massage part is awesome. It's my favorite seat in the house for sure.
The chair works excellent the phone charger, charges my phone fast the massage works great. I already recommended it to a friend.
I've had the chair for a couple of days the one thing I can't understand is why they would put a cup holder underneath the armrest.
The seating is not comfortable. Too short seat. The only thing big on this chair is the back. All this space up the back should have more on the seat area. I had the feeling of sliding off the chair which after a while my butt hurts.