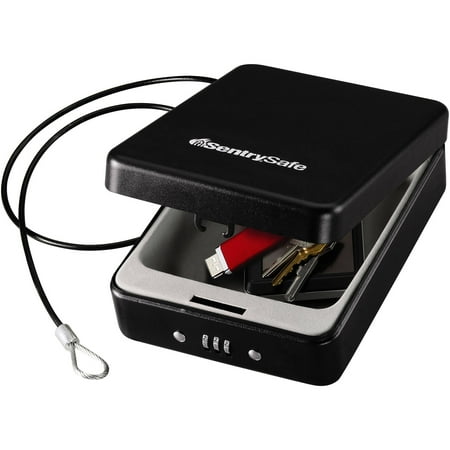 Now you can travel with peace of mind when you keep your valuables in the SentrySafe Compact Safe with Combination Lock. This is a sturdy and well-designed item for securing vital items such as your wallet, cell phone, cash, jewelry, keys and other compact but valuable belongings. The mechanical combination lock is easy to operate. Program your personal three-digit code into the combination lock, place your valuables inside and turn each of the lock wheels. Your valuables will be secure until you reenter your secret combination and open the lid. For additional security, this programmable safe lock box features steel tethering cables so that you can attach it to a stationary object in a hotel room or at home. The SentrySafe safe has a soft interior lining which is designed to protect fragile and expensive items from damage or scratches. It is constructed of solid steel to provide strength, yet the entire unit is light enough for you to carry it easily wherever you go. In addition, the small size lets you easily stow this programmable safe in your luggage, briefcase or backpack when you travel. This slim attractive item comes in blue, black and red. When you use the SentrySafe Compact Safe with Combination Lock, you can keep your valuables close at hand and travel with the sense of security that comes from having the right tool to protect them.
SentrySafe Compact Safe with Combination Lock:
Soft interior lining Lightweight safe lock box
SentrySafe Safe easily fits into luggage or backpack Solid steel construction
Steel tethering cable 3-number mechanical lock Programmable
Available in blue, red and black
reviews
I've owned this for over a year and have experienced no troubles. No regrets.
It's a great little safe for the price. Easy to set up. Fast shipping
I love how you can set your own code to unlock it. Sturdy, and comes with a strap to attach it on to something.
Bought this for a college student. Nothing fancy about it but it does the job. Good for storing credit card, cash, ID, etc.
Identity theft is common on many college campuses. So we purchased this for our son to use in his dorm room to keep his insurance card, extra cash, ID, private. It comes with a tether cord which can be secured. The internal liners can be removed to create more space/depth.
My son will be using this in his college dorm. It is just enough space to put a few items in it without taking up too much room in his dorm room. It was easy to set the code.
Perfect for what I need it for! Not recommended for use of large items… I use it for my wallet and it fits perfect! Easy storage solution also! Just put the safe in a drawer and go about your day… Or under the seat of your car.. It's nice and I would recommend it to anyone needing to keep their valuables in a safe place for a limited time..
Did not even come in original packaging – only a plastic bag. Clearly already tampered with. When I tried to set the combination I discovered that it was broken. I tried to reach out to Sentry and they have not responded. It is useless to me right now.