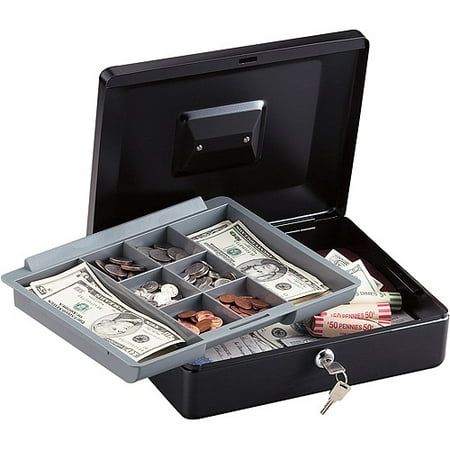 Keep your money and valuables protected and secure with the SentrySafe CB12 12″ Large Black Cash Box. This compact unit can be conveniently stored in a closet, cabinet, desk drawer or other private space. The cash box with lock features a light gray tray with six small compartments for coins in the middle. Two larger cubbies for bills sit on the sides. Sort income and make change quickly with this sensible design. Keep extra bills and coin rolls under the tray. The small silver lock sits on the front of the base and includes two keys for extra reassurance. The SentrySafe cash box with removable cash tray boasts an enamel finish for a professional look. Elegantly rounded corners offer safety during handling and transport. Use this strong container to keep ticket money, proceeds and donations under wraps during exhibitions, events and yard sales.
SentrySafe CB12 12″ Large Black Cash Box with Removable Cash Tray:
Gray sectioned tray
6 small coin compartments
2 large bill compartments
Black enamel finish on cash box with lock
Rounded corners for safety
Centered handle on top
Key lock with 2 keys
reviews
the lock needs to be designed a bit better as it DOES take me several attempts to get it to lock. Other than that its a good quality lockbox
The delivery time was so quick and the product was perfect. Thanks
This heavy duty change box carries the change of at least $500 for me at all times, easy to use the lock and handling.
I thought it was an excellent value. Just remember it is not a safe. It is a fairly large metal container with a small lock. Locks only keep honest people honest.. It is secure enough for my purpose. dfburr Branchport, NY 14418
I got this lock box for Girl Scouts. I use it for fundraising and it is exactly what we needed! It's huge and has enough space for everything we need to hold our troop funds!!
I wanted to purchase something that I could place valuables in – this product is outstanding for that purpose! I prefer a key type locking mechanism, and this unit has a durable key-lock with two keys. I also want to add that I greatly appreciate Walmart.com offering this at a competitive price point.
I'm using this safe to start an emergency cash savings. It's great quality and fits all my needs and i feel safe keeping money in it.
I am disappointed in this product because no one checked to see the inside tray was cracked before they sent it to me. I wish the coin tray was deeper because when you transport the coins fall out. Would have been okay if it had another slot to separate bills
A secure box for business or personal use Designed for storing coins and cash. Key lock helps keep your money secure. 9-compartment design helps you stay organized. Features a removable 6-section coin...