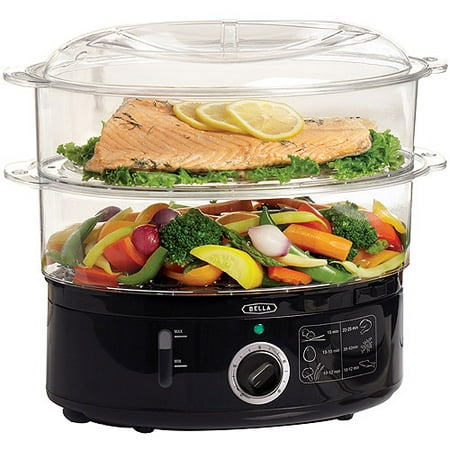 Make healthy meals fast using the Sensio Bella Food Steamer. It features a two-tier steam basket and a rice bowl. A 60-minute timer along with a water level indicator help you achieve ideal cooking times. Refill the water levels with ease using the external water filler. This electric food steamer also includes a red power indicator light and an auto shut-off that make monitoring and controlling the process more simple.
Sensio Bella Food Steamer:
Multifunction food steamer for healthy and fast cooking
2-tier steam basket with 7L capacity
5-cup rice bowl
Red power indicator light
Auto shut-off when water runs out
Water level indicator and external water filler for easy refill
60-minute timer
Dishwasher-safe basket and rice bowl
Cooking steamer model# BLA13872
Dimensions: 11.61″L x 8.94″W x 11.73″H
reviews
I have a built-in steamer in my other house, so I was skeptical as I bought this table steamer and I am very surprised how fast, simple and good this works. I did a lot of food in the meantime in it and everything was perfect.
Great product. Easy to use it everyday. easy to clean
I love my Bella Rice Cooker. However, there is a build up (white & kind of chalky) around the heating unit. How do I get this clean. The water is hard where I live, could that be the problem,?
Overall, the steamer works great, but one problem I've run into with this (and other brands) is that the white plastic bowl that comes with it stains permanently if you use ingredients such as tomato sauce, carrots, turmeric, etc… in it. I've tried several suggestions online, such as soaking it with lemon juice, vinegar, baking soda, and bleach, but none worked. Do you sell replacement bowls for this? Also, just a thought – perhaps make the bowl itself black, or perhaps make a glass model of this steamer?
I'm so happy with this purchase! My first meal of fish and vegetables was perfectly cooked in under 15 minutes. As an extremely busy professional, I'm so happy this steamer helps me to eat healthy and quickly. The only thing I would change or wish for would be that a second dish came with the steamer.
I used this once and then tried to cook using it again…within 20 mins of using it for 40 mins and the thing never heated up again!
Sensio Bella Hot Air Popcorn: Makes delicious fresh popcorn in minutesA healthier choice since no oil is neededUnique head shapeAir popcorn maker has removable lid for easy cleaningPops up to 4 cups o...
Bella Food Steamer, Black
Bella 2-Tier Food Steamer We can handle this kind of heat in the kitchen. Dabble in layers of steaming that are sure to satisfy. Multifunction bowls let you steam rice, veggies, fish everything you ne...