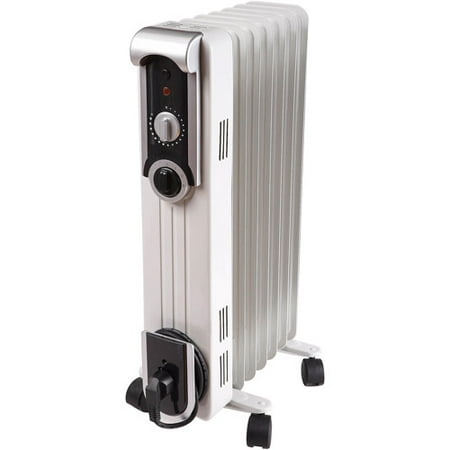 The Seasons Comfort Electric Radiator Heater provides 5120 BTUs of soft, quiet heat without fan noise. It comes in a white finish with silver accents.
Seasons Comfort Electric Radiator Heater:
Electric heater
Thermostat control
Front and rear carrying handles
5120 BTUs
1500W
Heats up to 250 sq ft
Some assembly required
Model# EOF260
reviews
Very pleased! It heats the bedroom at our cabin in the mountains, at below freezing temperatures and little insulation! I'm getting another!
Works perfectly. Heats up the studio. Very pleased
This heater is very quiet. I use in the bedroom so noise was a big deal for me. It takes quite a while to heat the room up, but once it is to desired temp it keeps it warm. I will probably buy at least one more for the front part of my house.
received very quickly even during holiday season. haven't had a chance to use it yet but have had another that lasted years and did a great job of heating so have high hopes for this one
Heater works very well.. It is completely silent and will warm up my 12′ by 20′ shop in a reasonable time.
The Seasons Comfort Heater can warm a fair size room but it takes longer than the fully electric one we had of the same size and design. The way it is better is that it has handles on each side, which the all electric one did not.
I like it. The only problem is that it takes awhile to get warm, but once it's warm it gets hot in my room so I have to either open the door or just turn it low. Make sure your door is closed first to keep warmth in .
Leaks oil 5 months in – cant find mfg to enforce 1 year warranty
The NewAir AH-450B Electric Oil-filled Radiator Heater is a great choice when it comes to convenience and portability. This heater has certified safety features such as overheat protection and a tip-o...