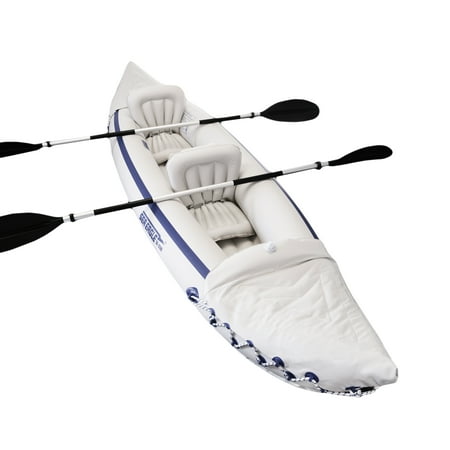 Use this Sea Eagle boat for fishing, yacht tending or skin diving. The versatile Sea Eagle 330 inflatable kayak weighs just 26 pounds and packs down to fit into the smallest car trunk. This Sea Eagle inflatable kayak holds two people or a total load of 500 pounds, yet it's easy enough to be carried and paddled by one person. It only takes about six minutes to inflate and assemble the Sea Eagle 330 inflatable kayak. Two rear skegs are molded in, like on a surf board, to enable you to go faster and further with less paddling effort.
Sea Eagle 330 Inflatable Sport Kayak with Paddles
Inflatable kayak sets up in less than 10 minutes
26 Pound Kayak packs to a fraction of inflated size and fits in small car trunks
Two person kayak comes with two paddles
Fishing kayak carries up to 500 pounds…and is easy to carry
Up to Class III white water rated versatile river kayak
Inflatable kayak I-beam construction floor and five deluxe one-way valves
Kayak boat with sun and salt resistant hull material
Inflatable kayak design refined and perfected over nearly 50 years
Many kayaks that are not inflatable are heavy, cumbersome and difficult to transport. Most traditional kayaks force you to pay extra for docking fees, storage fees, and trailer costs. When you have an inflatable kayak, you eliminate those extra costs. The Sea Eagle 330 Inflatable Sport Kayak weighs just 26 pounds and packs down to 20 percent of its inflated size, allowing it to be easily stored and transported. This inflatable kayak can even be checked as luggage!
A primary misconception about inflatable kayaks is that they are not as durable as non-inflatable kayaks. The SE-330 inflatable kayak will end all those concerns! This inflatable kayak has a rugged construction made from sun and saltwater resistant 33 mil Polykrylar. The versatile Sea Eagle 330 can handle up to Class III white water rapids. Why spend extra money on solid hulled kayaks when an inflatable model can do essentially the same thing? The SE-330 inflatable kayak is able to seat two persons or carry up to 500 lbs.
The SE-330 inflatable kayak is the perfect recreational kayak because it can be used for all types of water activities. Imagine sitting in your kayak on a glassy smooth lake, admiring its beauty and grandeur. Or take your inflatable kayak through white water, knowing it can handle any challenge. Finally, you can use your kayak for fishing. Yes, this kayak is inflatable and is capable of being used for fishing. Its hull is sturdy and stable enough for you to go kayak fishing. Take a friend along for any watery adventure because it can easily handle two 200 lbs people and 100 lbs of fish!
From oceans, lakes, and even rivers, this kayak dominates the waterways with its convenience, affordability and durability. It can be used to cross rapids or ride waves with the best performance an inflatable kayak can deliver. It is easier to carry than a canoe could ever be. Don't wait for a kayak sale to be able to afford a kayak, grab this inflatable Sea Eagle kayak and enter a world of water, fun, and adventure today! Then, when you're all done after a day of kayak fishing, white water kayaking or just paddling along on a beautiful lake, pack up your inflatable kayak and stow it in the car.
Perfect for rapids and fishing
Durable Polykrylar construction
Less expensive to transport than solid hull kayaks
The design and construction of the SE-330 inflatable kayak assists kayakers in every way. With the affordable cost, the low maintenance and the ease of use and stowage, this portable inflatable kayak nearly pays for itself. At only 26 lbs, this Sea Eagle kayak can be easily maneuvered both in the water and out. Save yourself time, money and frustration. This kayak is a lifelong investment that will keep you returning to the water again and again.
Invest in fun, invest in convenience, invest in an inflatable kayak today and discover why more and more Americans are turning to the inflatable kayak for fishing, floating and much more. Two persons, two paddles, unlimited enjoyment!
reviews
The box dimensions and weight are perfect for traveling on airlines, as it falls under the sport equipment category for most airlines. They kayak itself is sturdy, well made and easy to set up and use. I took ours to Tahiti and will take it every time we vacation to a water destination.
I am so glad I purchased this Kayak! I can inflate it in about 5 minutes. It feels safe and sturdy, I do not feel like it will tip very easily. Easy to get in and out of. I wish it came with the bag to pack it in… but, happy I got it it. I have never kayaked before and it works for me!
Easy to use, transport, and store. Good stability and maneuverability on the water.
We wanted a two man kayak that we could start out with as the hard body ones are very expensive. We are pleased with this one but it's a little heavy and putting air in it and deflating it after each use can get to be a hassle. It's sturdy and comfortable and will be good for first time kayaker, like us.
easy to set up and use. Very comfortable for paddling if you like leaning back (rather than bending over as in a canoe). Very little room inside for any cargo. Not very speedy on the water. Inflateable seats may need to be modified (esp. front). Material seems strong.
My wife and I got this because our canoe was too heavy for us to hoist on top of our car. I was a bit skeptical that it would end up like a pool toy, but this kayak seems very well constructed and durable. It took about 15 minutes to get it out of the box and into the water. It was pretty easy to paddle and maneuver about the lake. It was pretty stable and kept its line pretty well in the water. I do believe it took quite a bit more paddling than a normal kayak would, but we managed to get across the lake and back. I don't know that I would want to try paddling upstream in it though. My only disappointments are that ours did not come with the carrying bag that some people commented was included. The paddles are also a bit shorter than I would prefer in light of the fact that you sit far down in the boat and it has high, wide sides. And, I was fine in the back seat but my wife didn't like that she couldn't lean back in the front seat without it tipping backwards. The seats are more of a cushion than a supportive seat back. Overall, we like it very much for what it is though and it was certainly easy to transport, set up, and take down, which is what we bought it for.
Buyer beware — this kayak package doesn't include a carrying bag, which is why it is so much cheaper than versions sold by other retailers. The carrying bag is really important. Try to carry a folded kayak, collapable oars (8 pieces), a pump, and seats without a carrying bag. It's impossible. You'll need to buy your own large bag to carry this kayak, which will negate money saved buying it through Walmart. This kayak package also includes "standard" rather than "deluxe" seats. The standard seats lean much farther back than the deluxe seats, which makes them very uncomfortable after about 30 minutes kayaking.