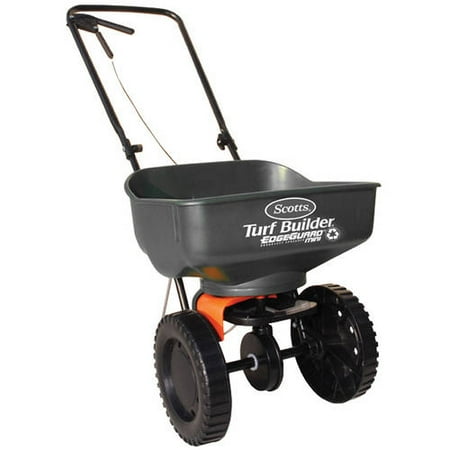 Control panel with precision rate setting for more accurate coverage. Holds up to 5,000 square feet of Scotts Lawn Products. Scotts spreaders and Scotts Lawn Products are designed to ensure superior results when used together. Available in the following sizes: Up to 5,000 square feet.
Scotts Turf Builder EdgeGuard Mini Broadcast Spreader:
Overview and Benefits:

Available sizes: holds up to 5,000 sq ft of Scotts Lawn Products

Coverage Area:
Special Instructions:

EdgeGuard blocks off the right side of the spreader pattern to prevent product from spreading onto non-lawns areas

Benefits:

Less waste
Less clean-up
Better for your environment

This is not the product label, always read and follow the product label before use
reviews
easy to use and spread fertilizer, grass seeds, ice melt, sand, etc. you are able to control where you want it to go. easy to push. easy to set for what you are putting out. easy to clean up after use .
Love this spreader. Lets you have good coverage in the lawn and keeps it off the sidewalk and the small plants you don't want covered. There is less laps around the yard. Great adjustable flow. Love the edgeguard attachment less clean up on sidewalk.
I'm in the landscape industry and we use heavy duty spreaders regularly. This spreader is great for homeowners but not sturdy enough for use at work. That being said , this is one cool spreader. I like the easy to use setting dial. Couldn't be easier to use. I also like the edge guard. I haven't had any snow yet but tried it with spreading sand. I set the edge guard to stop the sand from going into my mulch beds and it worked real good. I can only imagine it will do the same with ice melting products as well. I also tried it out spreading grass seed and it did prevent most of the seed from getting into the mulch but not all. This seems to be a great spreader and real nice quality for residential homeowner use.
Very good durable spreader! Spreads good, looks good.
As always Scotts products are the best, works well , easy to operate and stores easily with it compact size and foldable handle.
This spreader is easy to use and lightweight. It may be a mini spreader but it holds up to 5,000 sq. ft. of Scotts lawn products. I like the edge guard to keep the seed or fertilizer off the driveway. It's also great with the dial to adjust the amount of feed that comes out of the spreader. The higher the number, the larger the opening to allow more to spread. With just a squeeze of the handle, it opens the door to spread your lawn. I am very pleased with this spreader, as I am with all Scotts products.
I have used many Scott's​ Spreader's in the past but the new spreader is amazing because the large dial on the unit is so easy to use. It has large numbers making it so easy to see when turning the dial. The large wheels make the unit a lot easier to push and turn. It spreads the fertilizer or grass seed with a nice even flow and has no messy clean up. Love this new product.
This spreader is very well designed. It has just the right capacity for a 5000 sq ft bag, is noiseless, perfectly balanced, and the opening mechanism seems to be very precise. I also noticed, though not mentioned in the literature, that the handle can be easily selected for either left or right handed people. The only thing that in my view needs improvement, is to "hide" the wire for the opening mechanism, otherwise this spreader is a really nice piece of machinery and does a perfect job
This product has multiple settings and is easy to use. It's wonderful for spreading seed and I have also used it to spread salt and it works great for all applications.
The spindle in the bucket that allows material to flow has broken off after just a few uses on a 5000sq ft yard. The wheels collect material and leave clumps burning the lawn. This works and it's cheap but I guess you get what you pay for. I won't buy another not that I'm looking for a replacement I'll find another brand.
Scotts Turf Builder EdgeGuard DLX Broadcast Spreader: Keeps fertilizer off of landscaping, driveways, sidewalks and waterway areasScotts exclusive EdgeGuard TechnologyDesigned to ensure superior resul...
Scotts Turf Builder EdgeGuard Mini Broadcast Spreader: Overview and Benefits: Available sizes: holds up to 5,000 sq ft of Scotts Lawn ProductsCoverage Area: Up to 5000 sq ftSpecial Instructions: EdgeG...