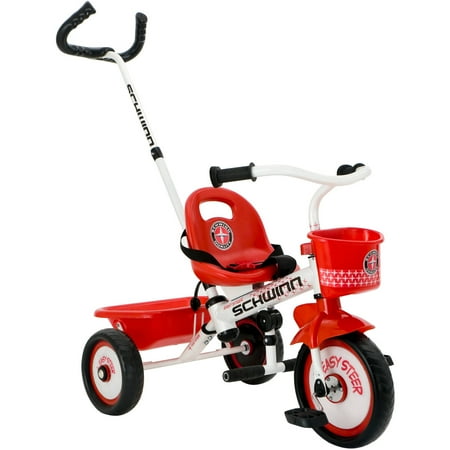 Give your sweet child an unforgettable first ride with the Schwinn Easy-Steer Trike. It is designed with valuable safety attachments, making it ideal for your child's beginner attempts at independent riding. Equipped with a comfortable high-back saddle and three-point belt, the red trike is built with safety in mind. The stylish and ergonomic design is enhanced with push and steer handles for parental control. This helps your child feel more secure as they ride. Your little one will ride confidently and safely on flat surfaces. The easy-steer tricycle has wide EVA tires that are fender-protected for all-weather utility and style. This kid's trike also features a rear gravity-lock dump bin and a front basket that provides extra storage for toys and supplies. It lets your little one take their favorite things with them on the go. If your child is ready to ride independently, consider buying the smart and stylish Schwinn Easy-Steer Trike.
It is designed for children ages 2 and up. The heavy-duty steel trike frame includes a concealed steering system. Assembly is required before your little one can get started with use.
Schwinn Easy-Steer Trike:
Heavy-duty steel trike frame includes concealed steering system
Easy-steer kid's trike is built with removable push/steer handles that allow adults to control steering and speed
High-back saddle with 3-point seat belt allows young riders to feel secure while an adult controls the ride
Wide EVA tires are enclosed for style and durability
Red trike has a rear gravity-lock dump bin and front basket that provide extra storage for toys and supplies
Assembly is required
Designed for children ages 2 and up
Safety attachments
Stylish and ergonomic design
Designed for children learning to ride independently
reviews
We had a very similar product from a different company that our daughter loved riding. I hated it unfortunately because the axel was so loud squeaking when pushing down the road. After one time our this spring, I decided never again. This Schwinn happened to be on sale so I took a chance. The axel part arrives assembled. This pushes smoothly and quietly. We both love it. Actually the snow came back here in MN but my daughter plays ALL DAY long with this bike inside the house (for now). A wonderful purchase.
Very easy to build–took one person about fifteen minutes. Granddaughter (2) loves this trike! Nicely engineered for adults to subtly and easily steer from behind, for an independent child who wants to do it all herself, but really isn't ready to do so quite yet. Then that adult handle is easily removed, when she is ready to actually look where she's going. She is able to both rest her feet on the footrest, or pedal, as she prefers. (Many small kid trikes have no footrest.) Color (teal) is bright and cheerful, and gender neutral. Plenty of storage for a toy or drink as she's heading out. Easily fits in a regular size car or SUV. Wish it had rubber wheels, but otherwise, it's great.
Our Granddaughter loves "traveling" and walks. For Christmas we gave her the Schwinn Woody Wagon which is awesome and for her 1st Birthday she received this awesome trike. When Grandpa took the front wheel out of the box her eyes were huge with excitement. When he got it together and we belted her in, the girl was in heaven. And with the steering you don't break your back pushing them and the seat belt keeps them from falling off. Wonderful purchase!!!
Arrived on time. Easy to assemble. Rear steering arm seems kind of flimsy but works ok. Could use about four more holes for seat adjustment but you can drill them yourself. Overall a nice trike.
Bought for our 22 month old great-grandson… Better than expected, faster than promised shipping. Extremely satisfied.
My grandson received this from me for his birthday and totally fell in love with it. He just turned 2 and is already getting the hang of using the pedals. Great price quick shipping and always good at Walmart.
We purchased this tricycle last spring. The main reason to purchase this brand/style was to find something with a push handle so we could help our son get the hang of riding a tricycle with pedals. For this use, he loved it. We could push him with his feet on the pedals or on the footrests. Eventually, he got the hang of pedaling and now wants to race around the neighborhood. The issues include: poor/loose assembly (no matter how many times we have tightened various bolts, the handlebars are still crocked and make it hard to steer); crocked attachment of parent push handle (also makes steering very difficult); loose joints throughout the body of the trike; seat assembly is loose and slopes to the left (initially made it difficult for our son to reach the pedal on the right, and his foot still slips off this pedal since he is constantly sliding to the left); loose assembly and slope of seat, along with general poor construction and materials make the tricycle tip over constantly. With each trip around the neighborhood, approximately 3/4 mile, our son typically falls off twice, even while riding on flat sidewalks, in the middle of the sidewalk, at a reasonable pace. Fortunately, he hasn't been injured. We don't have the funds to buy something else right now, so we walk next to him to keep him upright. Don't waste your money on this tricycle. If we had realized the extreme deficiencies early enough, I would have returned it. We paid $85 and it isn't worth $15. Look for a different brand, or hope that the one you buy is better made, assembled, and sturdy enough for a toddler or young child. Essentially, the one we have is a piece of junk. Once our son gets a bicycle, we'll toss this in the trash. Unfortunately, we'll have to buy another one for our younger child.
It is designed for children ages 2 and up. The heavy-duty steel trike frame includes a concealed steering system. Assembly is required before your little one can get started with use. Schwinn Easy-Ste...
Schwinn S6743 Easy Steer Beginner TricycleWhether they're ready to bike on their own or with a little help from a grown-up