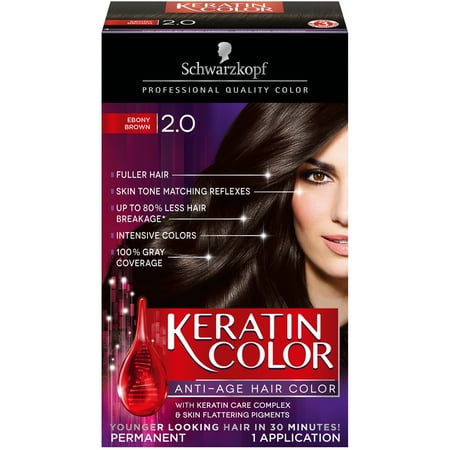 Keratin Anti-Age Hair Color uses Unique Collagen Care Complex and Skin Flattering Pigments to deliver intense color and fuller looking hair in just 30 minutes! Keratin Anti-Age Hair Coloration acts as a treatment to help repair highly processed, damaged hair with up to 80% less hair breakage*. 20 intensive colors deliver 100% gray coverage with a low-odor coloring experience thanks to the Ammonia Control Technology.
Up to 80% less hair breakage
100% gray coverage
Low odor technology
Younger looking hair in 30 minutes
Warnings:
Warning Text: Usage Advisory – Safety Warning: Important: Hair Color can cause an allergic reaction which, in certain rare cases, can be severe. Therefore, you must follow these precautions: Do not use if: you have already had a reaction to a hair color product. You have a sensitive, itchy or damaged scalp. If you have a Tattoo, the risks of allergic reaction may be increased. Perform a skin allergy test 48 hours before each use of this product (see insert). Remember to buy your product 2 days ahead of time. Avoid contact of this product with eyes and skin. If product gets into eyes, rinse immediately. Wear gloves provided in the kit. Thoroughly rinse hair after application. Do not use over compound henna or progressive color. Wait at least 14 days after bleaching, relaxing or perming before coloring. Keep product out of reach of children. Do not apply on children. Caution: This product contains Ingredients which may cause skin irritation on certain individuals and a preliminary test according to the accompanying directions should be first made. This product must not be used for dyeing the eyelashes or eye-brows; to do so may cause blindness.
Ingredients:
Ingredients: Color Creme: Aqua (Water, Eau), Propylene Glycol, Cetyl Alcohol, Ammonium Hydroxide, Paraffinum Liquidum (Mineral Oil, Huile Minerale), Stearyl Alcohol, Ethanolamine, Ceteareth-30, Toluene-2,5-Diamine Sulfate, Hydrolyzed Collagen, Serine, Hydrolyzed Keratin, Acrylamidopropyltrimonium Chloride/Acrylates Copolymer, Steareth-100, Glyceryl Stearate, Ammonium Sulfate, Parfum (Fragrance), Sodium Sulfite, Silica, Resorcinol, 2-Methylresorcinol, Tetrasodium Edta, 2-Amino-3-Hydroxypyridine, 2-Amino-6-Chloro-4-Nitrophenol, Ascorbic Acid , M-Aminophenol. Developer: Aqua (Water, Eau), Hydrogen Peroxide, Cetearyl Alcohol, Paraffinum Liquidum (Mineral Oil, Huile Minerale), Ceteareth-20, Propylene Glycol, Etidronic Acid, 2,6-Dicarboxypyridine, Disodium Pyrophosphate, Potassium Hydroxide, Sodium Benzoate. Pre-Treatment: Aqua (Water, Eau), Hydroxyethylcellulose, Ppg-1-Peg-9 Lauryl Glycol Ether, Pyridoxine Hcl, Sodium Benzoate, Sodium Salicylate, Parfum (Fragrance), Hydrolyzed Collagen, Acrylamidopropyltrimonium Chloride/Acrylates Copolymer, Potassium Hydroxide, Ci 60730 (Ext. Violet 2), Ci 14700 (Red 4). Keratin Care Complex Conditioner: Aqua (Water, Eau), Cetearyl Alcohol, Quaternium-87, Propylene Glycol, Hydrolyzed Collagen, Hydrolyzed Keratin, Serine, Butyrospermum Parkii (Shea) Butter, Prunus Armeniaca (Apricot) Kernel Oil, Panthenol, Isopropyl Myristate, Distearoylethyl Hydroxyethylmonium Methosulfate, Citric Acid, Phenoxyethanol, Stearamidopropyl Dimethylamine, Parfum (Fragrance), Polyquaternium-37, Ceteareth-20, Glyceryl Stearate, Sodium Methylparaben, Dicaprylyl Carbonate, Lauryl Glucoside.
Directions:
Instructions: Directions: Use a desired shade as described on the application window on the back of the foldingbox. Results will vary depending on your hair color And condition. This shade is suitable for non-gray hair up to completely gray hair. Additional Instructions: included in kit.
reviews
I've had my cosmetology license since 1989. I' have access to any professional hair color I want. They're all to harsh when you need to touch up roots every 3 weeks! I'm 50% grey and 50% soft black, Italian heritage with hazel eyes. I need permanent color. They either fade or don't cover the grey. If I use soft black, it's lifeless and flat. I tried the #2 ebony brown and got 100% grey coverage ( the 30 developer lightened my black hair to match) and the result are warm and vibrant. Love it!! I've done this twice and only do the new growth now. Perfect results each time. Love this product.
This color was amazing on my daughter hair. She took her hair to a shade darker. In the light this color shines with amazing highlights. This was very easy to use, has a pleasant and not too strong of an odor. Did not leave hair feeling dry. We will now wait and see how long the color lasts. We love that we got to try this product for free. Definitely a future purchase.
OMG!!!!! I am just over the moon ecstatic about this new product!!! I have fine hair and have also used every product on the market. Most recently, the best product I discovered was eSalon, and thankfully, my order was late coming yesterday or I would have never purchased this off the shelf, but was desperate! I was worried sick about the outcome as most of the dept store dyes leave my hair limp/dead/dry/lifeless/and brittle. I have to tell you, my hair has never felt or looked better! The color is absolutely beautiful; rich/deep/shiny/soft to the touch and easy to manage. I couldn't believe the results! I have had a tom of compliments tonight at work also 🙂 That being said… I am canceling my subscription to eSalon as we speak and going to go buy up every box of this color I can find before it disappears, bc as history has proven; if it is this good it will surely not last! You will not be sorry! Plz but this product so it is here forever!!!!!
I recently purchased this color system was looking to go darker for the fall/winter seasons. Started out with natural roots and bright red carpet colored hair. This ebony brown evenly covered everything. It is very dark almost black. But a warm toned color. Love the pretreatment keratin. I think thats why my hair is so soft and shiney it doesnt have that dyed and fried look to it. I will be repurchasing this line again. Worth the money. Did like the gloves cheapy plastic. But no other complaints!
I have been a licensed hairdresser and this is the best product I have used on my own hair. The color has not faded at all and doesn't come off on pillow cases or clothes from sweating.
My Mother and I actually bought this product to cover her grays. Through the both of us, we go through a lot of hair dye and we try tons of hair coloring products! This hair dye is by far the best hair coloring item we have ever bought! Unlike other hair products, this one didn't have a strong odor, so it didn't fill our house with that awful smell. Additionally, it left her hair feeling so soft and shiny. It was like it was her own natural hair color and all the grays were gone! I usually don't write reviews but spending a little extra money on this product really pays off! I did buy this as a part of a contest but I will be coming back to purchase more!
I have been coloring my hair for a number of years with many different brands of hair color, and have never had a problem. I trusted the Schwarzkopf brand having used their products before. After coloring my hair with this product and following all the instructions, my hair has been falling out in large quantities for 3 weeks now especially after I wash it. I had really long thick hair, and it it so thin now it does not even stay up in my hair clips. I called the company and explained what happened and they are issuing a refund which obviously will not get my hair back. They suggested that I call my doctor which I will do, but I never had a problem with hair loss and have been coloring my hair every 4 to 6 weeks for years. It seems strange that it would start falling out right after using this product.
Schwarzkopf Keratin Color Permanent Anti-Age Hair Color 2.0 Ebony Brown. Fuller hair. Skin tone matching reflexes. Up to 80% less hair breakage. Intensive colors.100% gray coverage. With keratin care ...
Hair products can leave your locks drab and brittle. Restore them with Schwarzkopf Ebony Brown Keratin Hair Color. Developed specifically for mature hair, Schwarzkopf Keratin Hair Color uses a special...