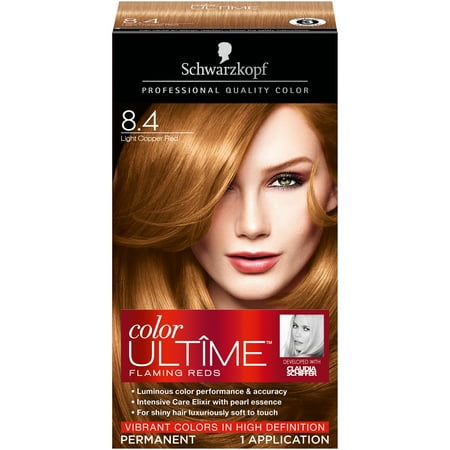 Experience sublime care for your hair formulated with Intensive Care Elixir with pearl essence. For shiny hair luxuriously soft to touch, available in vibrant colors in these high definition shades: Deep Brunettes, Iconic Blondes, Luminous Blacks, Flaming Reds, and Glowing Coppers.
Luminous color performance & accuracy
Intensive care elixer with pearl essence
For shiny hair luxuriously soft to touch
Ingredients:
Ingredients: Color Cream: Aqua (Water, Eau), Cetearyl Alcohol, Ammonium Hydroxide, Glyceryl Stearate, Ceteareth-20, Octyldodecanol, Sodium Laureth Sulfate, Sodium Cetearyl Sulfate, Serine, Parfum (Fragrance), Oleic Acid, Potassium Stearate, Glycerin, Sodium Sulfite, Silica, Ethanolamine, Tetrasodium EDTA, 4-Amino-M-Cresol, Carbomer, Resorcinol, 2-Amino-6-Chloro-4-Nitrophenol, 4-Amino-2-Hydroxytoluene , Potassium Hydroxide, Toluene-2,5-Diamine Sulfate, 2-Methylresorcinol, Sodium Sulfate, Benzoic AcidDeveloper: Aqua (Water, Eau), Hydrogen Peroxide, Cetearyl Alcohol PEG-40 Castor Oil, Disodium Pyrophosphate, Sodium Cetearyl Sulfate, Tetrasodium EDTA, Sodium Benzoate, Phosphoric AcidIntense Care Elixir: Aqua (Water, Eau), Cetearyl Alcohol, Quaternium-87, Stearamidopropyl Dimethylamine, Dimethicone, Citric Acid, Distearoylethyl Hydroxyethylmonium Methosulfate, Isopropyl Myristate, Hydrolyzed Pearl, Plukenetia Volubilis Seed Oil, Panthenol, Cocodimonium Hydroxypropyl Hydrolyzed Keratin, Hydrolyzed Keratin, Maris Sal (Sea Salt), Glycerin, Propylene Glycol, Parfum (Fragrance), Phenoxyethanol, Sodium Methylparaben, Dimethiconol, Polyquaternium-10, Hexyl Cinnamal, Linalool, Limonene, Benzyl Salicylate
reviews
Very hard to find here Have to order so Thank you Jet!!
I tried this new hair color as the L'Oreal was fading too fast. I also had to mis two colors. This hair dye is the perfect color for me as I am a natural redhead and this is very close to my natural color although it most certainly is gray underneath now. The shipping was good and I'm very satisfied.
I've been coloring my natural red hair as the grays started. My natural red color is a mix of strands of blonde, brown, and copper and it has been impossible to find a boxed color that is light enough, but not orange. The more golden or copper colors are darker than I wanted. I started with a darker color due to the above issue and this color lightened my hair a shade and it is probably the closest to my natural color in years. Another application or two will probably give me the shade similar to what I had as a child, which is pretty close to her color on the box. Please never discontinue this shade.
Is true to color. Long lasting too. Best hair color I have ever used. A little more expensive, but worth it.
I was hesitant to try the Light Copper Red because when I saw the box in person is appeared lighter than I was expecting. I have colored my hair at home many times and have had a hard time finding a color that I like. The product is packaged very simply and the directions are excellent. I appreciated the extra information within the instructions. The hair colorant was not as chemical smelling as other products I have used and the conditioner was wonderful. I have highlights on my hair that were done about 2 months ago so a bit grown out and faded. I was worried that the red would be much brighter on them and it is but I like how it looks and that all my hair is not one solid color. I have minimal gray which the product colored fairly well except a couple of difficult course short ones that grow in my part line. I used this product two weeks ago and wanted to see if it faded before writing my review. It has faded a small amount which I appreciate as just a little of the redness has washed out and looks more natural than on day 1. I did take before and after photos but they really don't show the color difference at all and there definitely is one. I have had many comments and complements on how healthy and shiny my hair looks. I do love how soft, shiny and sleek it looks…a break from my usually frizzy hair. I would try this product again although I think I would prefer a shade darker but the box gave a good representation of how the color turned out on my dark blonde hair.
I love this product, it was the first hair color that I was able to get red to last in my hair. It was very easy to apply, only took 30 min to set..wash and added conditioner..style as usual. I have had it in my hair for a couple weeks now and the color is still bright and vivid
I think the color gave me a nice warm summery look. A slight touch of strawberry blonde to my washed out bleach blonde hair. Overall I'm happy with this color and will use again. I wish they would have supplied 2 boxes instead of 1 because my hair is long and very thick. I had to purchase an identical box on my own to do this opinion
Color Ultime Light Copper Red is one of the best and most nourishing hair colors that I've ever used. It was easy to apply, washed out easily and the Intensive creme Elixir brilliantly conditioned my hair and ends after the application. I continued to use the conditioning creme for a few times after and it helped seal in the color and keep it from drying out. The color is still vibrant after several hair washes. I highly recommend this beautiful shade of copper red.
I just had to come leave a review to warn all the other ladies out there that are like me, thinking this is the most beautiful red . OMG My hair is Orange ! I regret buying this hair dye so much. I have really long hair and had to use 2 boxes of this worthless dye and now my hair is orange ! I had noticed while it was on my hair the dye itself was a bright yellow. I thought oh well, is just a different dye and works in a different way im sure once its rinsed out it will be okay. Was I ever wrong ! I wanted this dye so bad….I seriously thought it was going to be one of the best reds I had ever used and im not one to dye my hair but maybe once or twice a year. My hair is naturally strawberry blonde. If I could give this dye a big 0 I would have. Its just amazingly wrong ! Don't do it girls ……….if you do, your in for trouble like me. I had to put a darker red over top of this and still the orange shines through ! Now im looking at buying a hair stripper. This is the worst experience I have ever had with hair dye. Its worse than those 3.00 boxes of Revlon. Now I will spend tons more money trying to fix this mess ! Not happy at all……you were warned
Indulge your hair with the rich, vibrant tone of Schwarzkopf Color Ultime in Light Copper Red. Its no-drip color cream formula and Intensive Care Elixir banishes grays while nourishing and enriching e...
Indulge your hair with the rich, vibrant tone of Schwarzkopf Color Ultime in Mahogany Red. Its no-drip color cream formula and Intensive Care Elixir banishes grays while nourishing and enriching each ...
Schwarzkopf Color Ultime Flaming Reds Hair Coloring Kit: Luminous color performance and accuracyIntensive Care Elixir with pearl essencesFor shiny hair luxuriously soft to the touchVibrant color in hi...