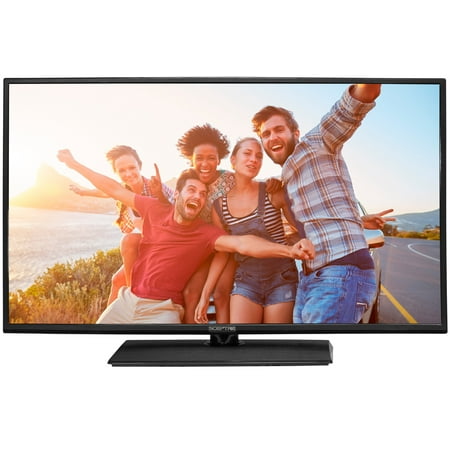 The Sceptre 40″ LED Class Full 1080P HDTV X405BV-F with 60Hz delivers top of the line picture and audio quality at an amazing value. This LED HDTV features a sleek and streamlined look that will lend an air of elegance to any room, with its sophisticated glossy black finish and slim brushed metal bezels. The 1080P LED display is composed with over 2 million pixels, delivering a vast array of vivid colors and rich, clear details, and the amazing automatic contrast enhancement helps balance images to look bolder and more lifelike. A 60Hz refresh rate lets you watch your favorite shows and movies flicker-free for an uninterrupted viewing experience. The Sceptre 40″ LED Class also comes equipped with 3 HDMI ports that let you connect game systems and other devices with the convenience of a single cord. Experience home theater surround sound without moving from your couch by controlling the Scepter sound bar with a click of the included remote control. Note: You must have a source of HD programming in order to take full advantage of the Sceptre 40″ LED Class Full 1080P HDTV X405BV-F with 60Hz. Contact your local cable or satellite TV provider for details on how to upgrade.
Sceptre 40″ Class FHD (1080P) LED TV (X405BV-F):
Key Features:
Screen Size (Diag.): 39.5″
Backlight Type: LED
Resolution: 1080p
Effective Refresh Rate: 60Hz
Smart Functionality: no
Aspect Ratio: 16:9
Dynamic Contrast Ratio: 12,000:1
Viewable Angle (H/V): 178 degrees/178 degrees
Number of Colors: 16.7 M
OSD Language: English, Spanish, French
Speakers/Power Output: 10W x 2
Surround Sound Mode
Connectivity:
Component/Composite Video: 1
HDMI: 3
VGA: 1
Headphone: 1
Optical Digital Audio: 1
RCA Audio L+R: 1
RF (Coaxial): 1
USB 2.0: 1
What's In The Box:
Remote Control
Wall-mountable:
Mount Pattern: 400mm x 200mm
Screw Size: M6
Screw Length: 8mm
Support and Warranty:
1-year limited labor and parts
reviews
Bought it for the bedroom. It has a clear, sharp picture, lots of jacks for hooking up stuff. Sound is OK but all flat-screens now a days are lacking so I already had a soundbar from the last one. Great buy!
I got this for a little over 200 bucks. It has a terrific picture. I view Netflix and Hulu on it, as I dumped cable for a streaming only tv preference. (saving money!). I have had this tv a year and haven't had a single problem with it. The only issue is the very poor quality, back-facing speakers. Heck, even if the dishwasher is running, you have to crank the volume to 90 just to hear speech from actors, etc. This also creates a terrible vibration in the tv and the sound is horrid. Easy fix! Get an affordable sound bar, don't use the tv volume at all and it's a great deal!
I love this brand, this is my third purchase, not because of a fault with the TV, but up-sizing or another brand needs replacing. Be warned though, as good as the TV is and the picture quality is phenomenal, the screws they provide, and they don't provide enough to attach the base to the TV are very poor quality. I had a Vizio that I was replacing because it was developing a dark band across the middle of the screen that was making me think I was developing a brain tumor! It was subtle but very irritating. I used the screws on my Vizio on this TV and that solved the problem but it would have been bad had I not had the other screws. I needed 8 and only got 4 and the 4 were worse than bad. I don't have a problem with the sound, but it could just be me.
I just bought my 3rd and 4th Sceptre LED TVs. First two are 32″; they are 3 years old now but picture quality is still like new. Newest ones are 40″. I love all of them! Sound wise, it is more or less like any other LED TV out there. For high-quality sound get a separate audio system.
I've had two of these worthless tv's in two years. Our first lasted 4 months. They sent a new one which involved driving 45 minutes away to a UPS location that allowed pick up's and exchanges. The second tv lasted 15 months and died. Since it's past 12 months I'm out the $200. So if you like spending $100 a year on a tv with extreme hassle, buy this. Otherwise, avoid this brand at all costs.
Refurbished SCEPTRE X405BV-FHDR 40" Class 1080p 60Hz LED HDTV:40" LED panelWith a 1920 x 1080 Full HD resolutionTrue 16:9 aspect ratioView your movies as the director intendedWide 176-degree vertical ...