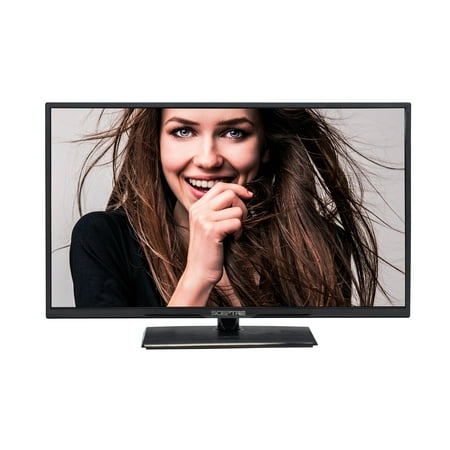 Whether you're a cineophile or a hardcore gamer (or both!), you'll get a complete entertainment experience with the SCEPTRE X322BV-MQC 32″ LED Class 720P HDTV. This 60Hz 32-inch LED HDTV with ultra-slim metal brush bezel features a features crystal clear display — it emits brighter and more robust colors and has an ultra-fast response time for non-ghosting images. The additional feature of a USB port helps further expand the functionality of your television, allowing the user to listen to music and view digital pictures quickly and conveniently. It can also be used as a PC monitor for a better viewing experience. This item comes with a built-in digital tuner for catching your favorite broadcast shows. It also has a true 16:9 aspect ratio for watching your movies the way that the director intended. Plug in your Blu Ray or DVD player or your preferred video game console with the three available HDMI inputs.
Sceptre X322BV-MQC 32″ LED Class 720P HDTV with Ultra-Slim Metal Brush Bezel, 60Hz:
32″ LED panel with a 1366 x 768 resolution
SCEPTRE X322BV-MQC 32″ LED Class 720P HDTV has a true 16:9 aspect ratio
View your movies as the director intended
60Hz 32″ LED HDTV with ultra slim metal brush bezel has a built-in digital tuner
Watch digital broadcasts, including HDTV programs where available
32″ HDTV has three HDMI inputs
Enjoy a superior HD experience with HDMI, the one cable audio/video solution
31.5″ screen measured diagonally from corner to corner
reviews
Set mine up yesterday. So far it's pretty darned good. Great color, excellent sound. Any adjustments you want to make such as brightness, contrast, color, etc., are very simple to do. I was surprised how light it is, wasn't too heavy for me. I'm getting another one for my bedroom. It's a really good t.v. at a great price.
My dad bought this tv for me when I went to college so I wouldn't have to bring my old huge tube tv. It has amazing features, like 3 hdmi ports, hookup for a computer, as well as USB hookups. The sound was a bit to get used to because it has a stereo sound to it, but after a bit of adjustment it worked fine. I tend to leave the surround sound mode on so that it sounds better. Definitely recommend this tv!
I just bought this tv this week, and I found it to be very easy to set up. The picture is very clear, and the sound is loud and clear.
great features with 3 hdmi ports, and pc port. however, sound was terrible until i adjusted it via the equalizer. the presets for the sound were terrible – thus losing one star.
Good for the price! This is my 3rd tv. 1st one I bought in 2013, backlight went out 2 weeks ago. Saw some reviews online that this is a problem that happens often with these tvs'. Hope my other 2 lasts longer.
Just bought my tv, it's a great little tv, great price, great picture, and just what I needed.
after buying it, the screen went dead,, to a black screen after 14 months.. not sure if other led tv's do this , but sounds like it in other google reviews. was it just my tv? not sure ,, but leaves a bad taste in mouth. new tv's just don't last that long like older cart tv's.