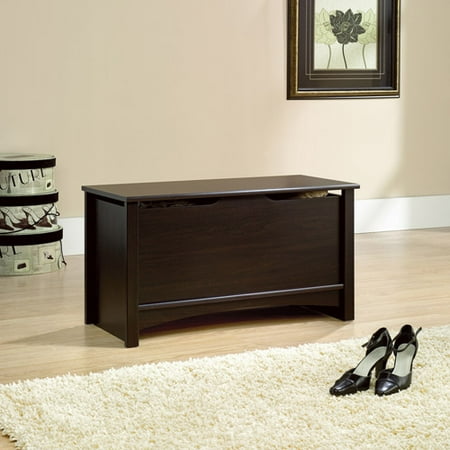 Bring style and functionality to your home's interior with this Sauder Shoal Creek Storage Chest. It's made of medium density fiberboard and particle board with a Jamocha laminate finish and has solid wood detailing accents. This Sauder storage chest has a versatile design that makes it ideal for use in a bedroom, living room or a child's play area. The large storage space is suitable for holding extra pillows, blankets and linens or toys. It has a traditional style and standard ventilation to protect contents from the development of mold and mildew. This piece of furniture comes with lid stay for added safety.
Sauder Shoal Creek Storage Chest:
Traditional styling
Functions as storage chest or toy box
Standard ventilation
Lid stay for safety
Available in a variety of finishes
Assembly required
Dimensions: 35.276″W x 15.215″D x 18.937″H
Traditional chest made of medium density fiberboard and particle board with a Jamocha laminate finish
reviews
The toy box was so easy to put together. It's beautiful and great quality. Little smaller than I expected but thats my fault.
This was not difficult to put together, took my 21 year old son less then an hour. This chest is big enough for his winter clothes and bigger blankets. I would recommend for extra storage, this chest looks more expensive than it is.
I was needing a storage chest for my blankets but unfortunately, I bought this only to find out it's a small, child's toy chest. I did keep it and use it but feel that it'd have more depth if the bottom was set lower. It's at least a couple of inches up off the floor which took up useable space. Also, the lid doesn't close all the way, there's a gap that occurs due to the rubber "stops". Other than that, it served its purpose. I'd recommend it only if you don't plan on putting any large items in it.
This is for my Great Grand 3rd Birthday for toys then when shes older for storing other stuff. Riley looks good but the screw strip out kinda easy be en press wood , For that reason I give it a 4
The Bottom (D) is installed 4 1/4 " from the bottom of the chest which leaves 12 1/4″ of actual depth in the chest. Caution:>> The Front (H) can be installed either way and, in fact, did install it backwards. After noticing the Hidden Cams were exposed was able to loosen the Right End (A) enough to flip the Front around to correct installation.
This storage chest worked well for storing my toddlers toys and blending in with the living room furniture. I hope it will last for a while. The exterior is nice but wood is not a good quality.
Easy to assemble and looks great. Hinge prevents the top from slamming down. Nice feature
I believe this item may have been broken in transit. I will be returning it, however I may repurchase, as I was satisfied with the other Sauder Shoal Creek pieces that were purchased.