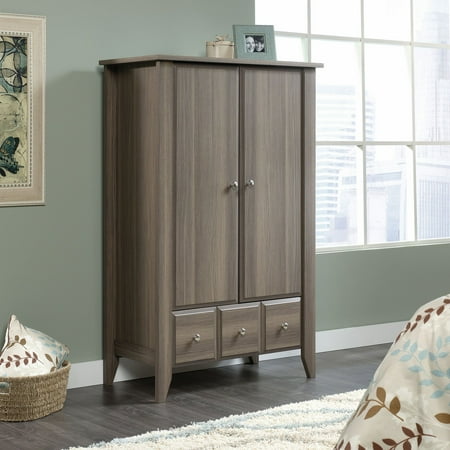 Keep your wardrobe organized and stored properly with the Sauder Shoal Creek Armoire- Diamond Ash. Featuring one large bottom drawer for folded items, this handsome armoire also includes two doors with two adjustable shelves inside for customizable storage. Made of particleboard, it's finished in an easy-to-match Diamond Ash. This is a classic style that suits any bedroom decor.
Sauder Sauder is North America's leading producer of ready-to-assemble (RTA) furniture and the nation's fifth largest residential furniture manufacturer. Based in Archbold, Ohio, Sauder also sources furniture from a network of quality global partners, including a line of office chairs that complement its residential and light commercial office furniture. Sauder markets more than 30 distinct furniture collections in a full line of RTA furnishings for the home, entertainment, home office, bedroom, kitchen, and storage .Sauder is a privately held, third-generation, family-run business. The company prides itself on its awareness that all function and no fashion makes for a dull living space when it comes to home furnishing products. That's why Sauder's award-winning design team has produced more than 25 collections of stylish furniture that span the design spectrum. From minimalist modern or contemporary to classic 18th century or country styles, Sauder has what you're looking for. The company offers more than 500 items – most priced below $500 – that have won national design awards and generated thousands of letters of gratitude from satisfied consumers.
reviews
This armoire looks very good in the room we have it in and matches other furniture in that room. We did have some challenges assembling it and struggled with getting the drawer to work. Other than that, it does serve it's purpose and we do like it.