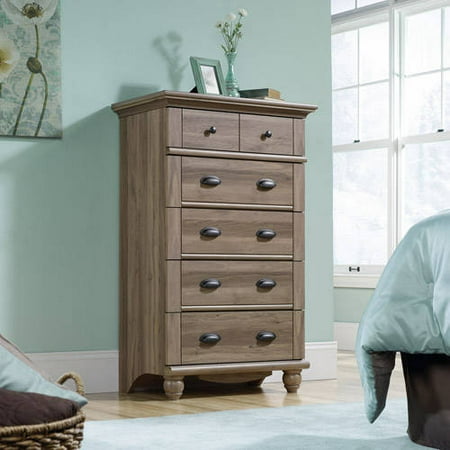 Bring a breath of fresh air into any home or bedroom with this chest of drawers from the Harbor View collection. This piece can transform any room into a seaside oasis. This chest features five deep drawers that open and close on smooth metal runners. Detailed with solid wood, turned feet and weathered bin pulls, this is the perfect piece to make any bedroom feel like a tropical paradise.
Sauder Harbor View 5-Drawer Chest, Multiple Finoshes:
4 large storage drawers
1 medium-sized drawer
All 5 drawers feature metal runners and safety stops
Assembly required
5-year limited warranty
Assembled dimensions: 31″W x 17.625″D x 49.75″H
Sauder Model# 420465
reviews
We ordered this set for our guest room, and I put it all together myself. It takes time, but not a ridiculous amount of time. Don't rush, follow all the instructions, and this furniture will look great for years to come. If you're expecting high end quality hard wood and huge drawers, this isn't the set for you. But if you want a nice little setup at a good price that looks great and serves the purpose, it won't disappoint. The image I posted is taken at night with tinted lighting. The chest is not pink, it's a beautiful soft cream color. This just shows the slightly distressed finish, which I love. Our guest room turned out to be one of my favorite rooms in the house. I would highly recommend this to a friend!
Quality seems good. Lots of parts to put together. If you don't mind a little time consuming project good buy for the cost.
This dresser was a great buy. Highly recommend it. It looks great and is very sturdy. Color is just slightly darker than the stock picture and is pretty spacious. Just be aware that it is a small job to put together and need to do it as a team, but this is what is expected with this type of furniture. Instructions very helpful as well.
i love this dresser, very pretty and sturdy. Price was very good. The pieces could have been marked better but we got thru it. Also got the night stand and headboard love them all
This chest is attractively styled and a sturdy piece. The drawers work easily and are finished nicely inside. You could store your most delicate garments inside very safely. Assembly is a step by step process; time consuming but not difficult. I think this piece of furniture was one of Sauder's early efforts — all the hardware is in one packet and needs sorting out in order to proceed with assembly. (Later products hdwre is sorted and packaged more conveniently. ) Also the back consists of 3 panels that are only flimsily connected' they are not quite as secure as they should be, in my opinion. So I reinforced them with an additional piece of wood that doesn't show from the outside.
It's a nice piece once you get it all together. Less than half of the boards were labeled, so that made it a guessing game. Now that it's done, we are very happy with it.
I purchased this item for granddaughter and her mother was disappointed. Took too long to put together. Yes product said all wood, but the wood was only the chest legs. Misleading. The chest was made of pressed board with a plastic covering. Very disappointed.