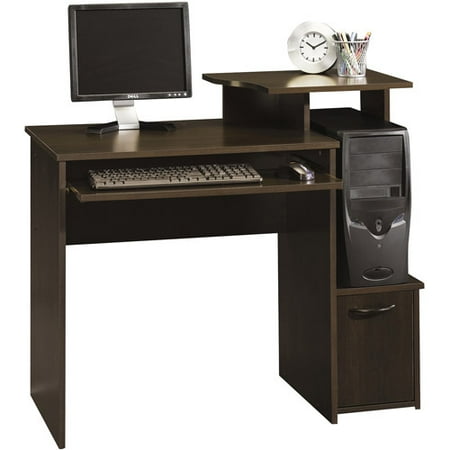 The Sauder Beginnings Student Desk in a Cinnamon Cherry finish is a reliable and versatile piece of furniture for any work or study space. Made of engineered wood, it is sturdy and durable. The top area of the Sauder student desk has room for a monitor, while an elevated shelf can hold other equipment. A slide-out shelf provides a space for a keyboard and a mouse. A dedicated area can hold a vertical CPU tower and a cabinet door reveals additional storage. The laminate finish of this cinnamon cherry computer desk matches with most decor.
Sauder Beginnings Student Desk, Cinnamon Cherry:
Model 408726
Elevated monitor/printer shelf
Slide-out keyboard/mouse shelf with metal runners and safety stops
Dedicated storage for vertical CPU tower
Hidden storage behind door
39.625 x 19.5 x 34″H
Sauder student desk is available online only
Laminate finish
Computer desk is made of engineered wood
Shipped with Sauder's TransGuard package protection, which features hard, cardboard edging and shrink-wrap film on the carton, to ensure your delivery arrives damage-free
Assembly required
Desk and task chairs sold separately. See our assortment of desk and task chairs.
Reviews
Simple and functional desk for our computer. Fairly easy to assemble and strong enough if not moved around a lot. We do not intend to sit at this computer for hours. Just the daily routine of checking the news and e-mail. No more than an hour. We did not want a big desk that would take-up a lot of space. This is practical for us. Not a good student desk.
I bought this for my son's bedroom since his room is small and it fits perfect. He is not easy on furniture and we have had this for some time now, no problems. It doesn't seem flimsy like the ones I have gone with in the past which were those laminated tan and silver desks, those fall apart quickly. This seems like a heavy piece that will last.
Excellent value. As ever, Sauder name is reliable. Sturdy, relatively easy to put together. Handles all my computer and printer needs.
I had this desk shipped to my home and put it together myself! The directions were extremely simple and thorough. It took me longer than just 2 hours (what others said it took them), but I am very pleased with the desk. It is very sturdy when you tighten the cam dowels as instructed. My other worry was about the stability on carpet, but again, I am pleased to report that my worries are gone. I love that it has storage and a separate area for a printer, as well as a keyboard shelf, which I actually use a writing area to take notes since I have a laptop.
It arrived at the door in excellent condition thanks to the extra packing of strong corner and edging cardboard. The vbery polight delivery man even brought it in the door way for me. The color is much darker then the picture in the web sight, but is still nice. It has perfect design for my PC, and second shelf for my electric bar and copier, a lower closet (which I added a plastic box from the dollar store to pull out) . The top leaves plenty of room to work with and a over hang on the right shelf to also use . I am 65 and put it all together myself. I have a large breakfast counter and put it together there. Everything was well marked, and the instruction book was easy to follow, I laid out all the parts on a paper towel to be sure they were all there before I started and labeled each pile as there were allot of screws. Just follow as directed and it will all go very well. I am very happy with everything about it. I moved out of state and had it delivered to where I was going, and it arrived the day after. Once put together I had help moving it to the proper room and place, but the bulk was the problem, though it is heavy.
This is a good desk my purposes. I'm retired and use it everyday. The height is good for me and it's really stable. It also has plenty of room for the tower, printer, monitor and my papers and mouse pad.
I had to hire a handy man to put it together for me and it took very little time to do so however when we opened the box, the right front corner of the desk was damaged. I had it delivered to my home so I am not sure if it was damaged by walmart or the delivery service. If I had been able to I would have returned it but it was too much to deal with as I had just had wrist surgery. Bummed about the damage so i would say look over every piece when you open the box.
This is by far, the WORST, piece of furniture I have ever purchased. For 80 bucks, I expected something a little more sturdy. You can't move the desk after assembly without something breaking. Keyboard tray will fall…It broke the raiser piece off of my keyboard….It's extremely flimsy press board….do NOT buy this…..returned this next day.