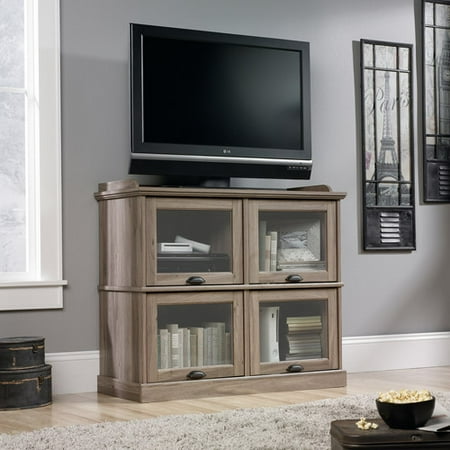 The Sauder Barrister Lane Highboy TV Stand offers a strong and sturdy storage and support option, with a simple but stylish design that meshes with a variety of home decor arrangements. This stand features a salt oak finish on top of engineered wood, providing an elegant appearance without sacrificing stability and rigidity. Additionally, this Salt Oak TV stand comes equipped with framed and safety tempered glass doors capable of flipping up and sliding back for quick and convenient storage or display.
Sauder Barrister Lane Highboy TV Stand for TVs up to 42″, Salt Oak:
Fits most TVs up to 42″
Salt oak finish
Framed, safety-tempered glass doors flip up and slide back
Enclosed back panel with cord access
Made of engineered wood
Assembly required
Dimensions: 41.58″W x 18.74″D x 36.85″H
Model# 414720
reviews
was easy to build took only 1 an half hrs to make it look nice
Given this is particle board with a laminate on it, I knew it wasn't going to be a forever piece, but I'm definitely impressed with the quality of the particle board. The finish is great, instructions were 95% great.
The size is perfect for the TV. You can organize things inside, spacious.
I purchased this to use as a microwave / cookbook storage stand for my kitchen. I had it shipped to my house and it was well packaged when it arrived with no damage. It took me about 3 hours to put it together by myself but it was really easy and the directions were quite simple. I love how the glass doors slide up and back. My microwave fits right on top and I still have room on the side for a banana tree. I was able to store candles, wines, cookbooks, and extra cooking paraphernalia underneath with room for more if needed. This product far exceeded my expectations. It's a beautiful dark gray and looks way more expensive than it actually was. 5 stars to Sauder!
I use this TV stand as a book shelf. It's pretty sturdy, it looks good in my room and it has a great storage capacity. Definitely would recommend to anyone.
This is a pretty nice TV unit, especially considering the price. I chose this one because the gray tone matches my house, and I needed something tall to keep my TV out of reach of little hands. All the pieces unboxed in good condition, and the instructions were fairly clear. I'm a woman in my 30s and I put this together on my own in about 4.5 hours, although it was quite heavy. Instead of turning the unit over to do some of the steps, I just did them upside down and it worked out fine. I also waited until the end to attach the foldable piece onto the back. I have two small complaints: one is that while I was putting together the trim piece (it goes around the top of the unit), a corner of the trim fell right off. The trim is obviously made of a near cardboard like substance. I glued it in place, and you can't see on the unit. The second is that the spacing between the doors and the sides of the unit is not even – some of the spaces are bigger than others. That makes the unit look like…well, what it costs. The door attachment system isn't the most high quality either (it's mostly plastic), and you have to slide the doors up carefully, and not let them slam down. But overall, the unit does its job for the price and looks pretty good.
This is beautiful, exactly the size and style I wanted. Looks like a quality piece. I cannot rate it as high as I would like or even recommend it because the assembly was a nightmare. Even with two talented assistants, we could not get the pieces to line up properly and it is extremely heavy. I was going to build a collection of the other pieces, but am very discouraged.