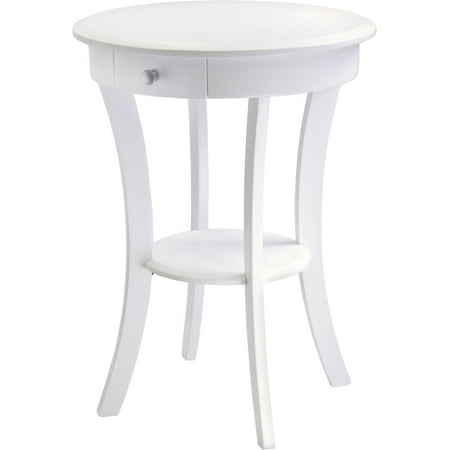 The deluxe size of the table makes it the perfect place to put a variety of items, including books and a lamp, phone, vase or more. This elegant, simple round white table has a curved, smooth design, which blends well with your bedroom or living room décor. The Sasha table also comes with a drawer for discreet storage, along with a shelf for display. Made of a combination of solid and composite wood with a white finish, the table is ideal for almost any space.
Sasha Accent Table, Multiple Finishes:
Elegant end table
Drawer for storage measuring 5.75″W x 7.87″D x 2.32″H
Shelf for display, diameter: 11.81″
20″ diameter top is large enough to hold a lamp, vase and more
Clearance from bottom of drawer to shelf is 12.4″
Made of a combination of solid and composite wood
White or cappuccino finish
Assembly required
Dimensions: 20″L x 20″W x 27″H
Model# 10727
reviews
I used these tables as nighstands in our master bedroom. They were an excellent price, super cute and good quality. I am very satisfied with my purchase.
Very will designed and looks great
What a surprise to get this accent table so quickly. Packed well and took me about 20 min to assemble. Great value as well. I saw a similar table on another site for so much more. I made the right choice. It is well made and sturdy with a cute little drawer that slides easily. Lovely addition to my mom's bedroom.
The table turned out nicely. It was somewhat difficult to put together but looks pretty much like the picture.
This table was an excellent size for our living room. It was a great price. It went together easily and was of good quality. The finish was very good.
Just what I needed! THis fits perfectly at the end of my sofa. The height is great and I wanted something with a lower shelf to hold my router so it didn't have to be displayed on the top. It was easy to put together too! I replaced the knob and I love it!!
This is just what I wanted! I love the look and height of this end table. I wanted something with a lower shelf to hold my router so I didn't have to display it on the top. It was also easy to assemble as the directions were very clear. I changed the knob to match my room and I love it!!
The table was easy to assembly and looks great.
I was really excited to get this table. It has such a good look to it, loved the shape and how the legs were placed and it looks really sturdy (awesome buy for the price). However, i took it out of the box to find that every single part was pressure dented, cracked or had digs in the wood. It was really a huge let down.