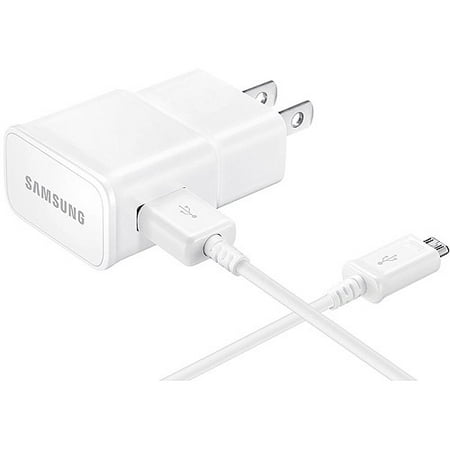 With the new Adaptive Fast Charging technology for Galaxy Note 4, your battery can go from zero to up to 50 percent in about 30 minutes, so you can spend less time connected to an outlet and more time connecting with people you care about. The Adaptive Fast Charging Wall Charger will charge other microUSB devices without the Note 4's Adaptive Fast Charging feature as well, with just a standard two-amp charging rate. The Samsung Wall Charger plugs into any standard wall outlet via the included AC adapter, and its compact design means it is small enough to throw in a briefcase or backpack when you're on the go. Samsung's charging technology powers your phone while it charges its battery, so you can make calls, check your messages or browse the Web while your phone is charging. This Samsung charger has an output of two amps to give your phone power at a much faster rate than your typical one-amp or 700mAh charger.
Samsung Adaptive Fast Charger Wall Charger:
microUSB wall charger
Enables rapid recharge on your devices
Whether at home, the office or on the go, the Adaptive Fast Charging Wall Charger will have your device to full charge in no time
Model# 33-0660-05-XP
reviews
Good for an extra charger, just wish it was the one that just plugged into the phone instead of needing the small black adapter
I'm more interested on reviewing the reviewers. But to start off, the product does what it suppose to with the only problem being the cord does break early with heavy use. I know cords that do move this much and take accidental strain, do break, but I believe the chord can be fixed with a more tapered strain relief and a better wire jacket. Especially for this price. Review ends here —————————– Rant starts here: As for the 29 reviewers, 2- stars or under, Wow! (05/17). Half of you sound like your buying knock off chords and chargers from a 3rd party e-store and then come here to leave a review. I'm posting a picture where, I sacrificed my cord, by ripping off the plastic housing to show you what the inside looks like. If the inside of the Mico-USB b does not look like yours, then you know you got duped. I am not positive, but I believe the USB a side will look similar. As for the other half I don't think you realize how complicated this little charger is. There is over 60 passive components and 5 active in the little package, it needs to switch between 5 different "modes" of operation depending on the what phone or tablet, how much battery is left, and what the current user is doing with the phone. To do so, it needs to be told by the phone. So, if the cord can't handle data, it will charge at USB 2.0 standard of 5V – 500mA not its fastest 9V – 1670mA. One way to check if the chord has data, is to transfer files from phone to PC or visa versa, with said cord. If it cant or seems slow then the cord is dead. I notice many other problems with many of the reviews. One would be, someone bought this chargers for the 5s. The 5s does not take advantage of QualComm quick charge 2.0 and therefore it will not adaptive fast charge on this charger. I can spend all day here correcting reviews, but I will not. My 10 minutes are up so, PLEASE, PLEASE, PLEASE, in the future, do a little research, and try to contact Samsung before you leave nonsense reviews.
I ordered this for my S5. The original S5 charger is different, however, this one fits the S5. I chose this charger because I just preordered a S8 and I was told it works for the new S8. Besides its the most common charger that fits most android devices. It's worth the money, charges fast, don't waste money on knockoffs. The cable is thin though and the con is the cable is too too short.
This charger is Fantastic. Charge quickly! I love it especially since I have a home base business and use by cellphone for it
I thought i was only ordering the charger cord but, the fast charger came with it too! It was a gift for my grandson so he could charge his tablet faster. He was extremely satisfied as well! Thank you!
The battery does its job, keeps a charge all day. It was a much needed replacement as my old battery was almost 2 years old.
Read all reviews before considering a purchase. Waste of money, works off and on, cable poor quality, gets loose.