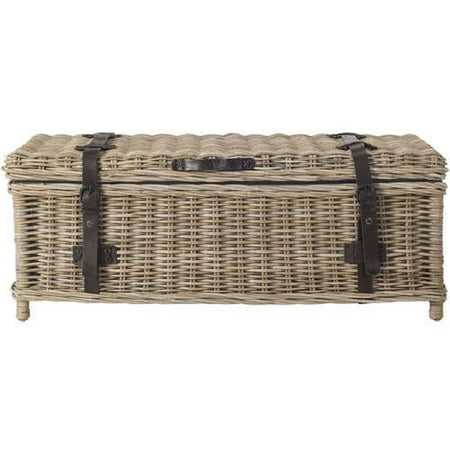 Brimming with vintage charm, this rattan storage trunk serves double duty as a pretty piece of furniture. Designed with faux leather straps, cotton lining and hinge top, it its ample interior holds your choice of blankets, pillows, clothes and more. This is a great addition to your home, whether in the country or busy city.
Safavieh Navarro Trunk:
Contemporary design adds a chic look to your home
Durable frame for longevity
Easy to clean and maintain
No assembly needed
Item dimension: 45.7″W x 23.6″D x 18.2″H
Directions:
Fabric Care Instructions: Follow instructions provided on the tag or packaging.
Safavieh Navarro Trunk: Contemporary design adds a chic look to your homeDurable frame for longevityEasy to clean and maintainNo assembly neededItem dimension: 45.7"W x 23.6"D x 18.2"H