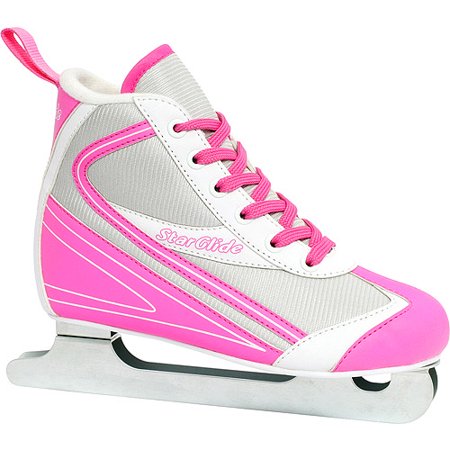 Get her into training with these Roller Derby Lake Placid StarGlide Girls' Double Runner Skates. They are ideal for young beginners on the ice. They will encourage your child's talent and love for the sport while protecting her developing feet and ankles. These girl ice skates have a smooth, vinyl outer boot that's comfortable to wear and helps her move easier on the ice. They feature a lace closure for a secure fit and a heel counter for added support. These Lake Placid ice skates also feature blades that are made from hard carbon steel which are zinc plated, making them even more durable and attractive. They have a pink and white styling that appeals to girls of all ages and make a wonderful gift anytime of year. These ice skates are available in various sizes to conveniently suit your needs.
Roller Derby Lake Placid StarGlide Girls' Double Runner Skates:
Boot: Smooth vinyl outer with padded lining, heel counter, lace closure
Girl ice skates blade: Zinc plated, carbon steel double runner blades
Ideal for practice or fun on the ice
Available in various sizes
reviews
These are excellent starter skates. They are durable and well made.
Bought these skates for my 4 year old granddaughter. Fit was true to size. She did well with the double blades since she is a beginner skater. Loved the color and style. Purchased online shipped quickly and was a great Christmas gift!
These skates were so very cute. My granddaughter was thrilled when she received these. She is 4, and these are her first skates. They seem very well made.
I realize that most of the "learn to ice skate" advice goes against starting with double runner skates, but my goal for my daughter is to start off enjoying ice skating. Our first time out on the ice, she was very stable on the ice and only fell 3 times. Best of all, as we left, she asked when we were going to ice skate again. Good solid skates that are comfortable and stable. Out of the box, the skates blades were rough and needed to be de-burred, but for the price, I would expect this.
I bought these for my little girl she was bursting with joy because they were pink and exactly what she wanted double blades so great for a beginner and excellent quality for 20 dollar skates well worth the money and than some
Bought these double runner skates for my granddaughter on her 5th birthday. She absolutly loves them. The skates run a size bigger then a normal show size. My granddaughter takes a size 9, I ordered a size 10 skate and it fits her exactly. The construction is very good, The blades are made of a very very hard plastic like material, They don't and shouldn't need sharpening. Don't think that because of that, they don't glide. They are just as "slippery" as normal steel bladed skates. The double blades help greatly with stability especially for toddlers/small children with their first times skating. I recommend these skates highly.
i got these for a 3yr old shed never been skating befor and she was able to stand on her own with the double edges! I did get them almost 2 sizes to big and and they fit fine with thick socks there definitly not anything fancy but definitly good quality for $20 they pay for them selfs compared to renting skates at an arena
These skates are good for younger kids just learning to skate and it's overall a good price. The ankle support is lacking and the blades are dull (I'm not sure if they should be). I would recommend this to anyone looking for cheap skates for a younger kid. It's better than spending $60-$80 on good quality that your child may not even be interested in.
I purchased these for my 5 year old daughter for us to learn to skate this year and so far she loves them. They are more of a sneaker so they are very comfortable, and the double blade on them is perfect for learning.
Flimsy, not sharpened, so useless on the ice, didn't fit well.