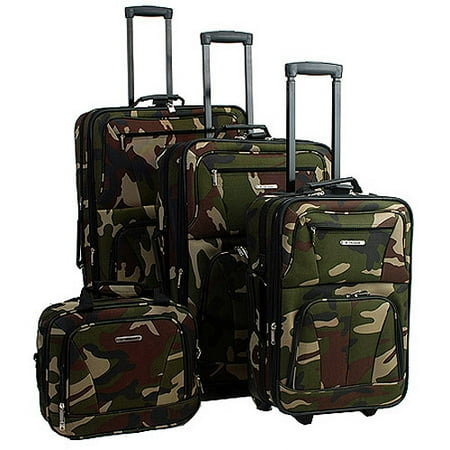 The Rockland Luggage Journey Expandable Luggage Set will become your best travel companion. Constructed of heavy-duty polyester and PVC backing, this set includes three expandable uprights and a flight tote bag. This expandable luggage system with EZ-Roll inline skate wheel system allows easy maneuverability and is perfect for anyone from the vacationer to the business traveler. The Rockland Luggage 4 Piece Luggage Set (Camouflage) also features ergonomically designed handles that can be retracted and locked when not in use. The additional top and side comfort grip handles further add to the convenience. All the uprights come with interior lining for durability. They also include pockets both internally and externally providing space to keep your travel essentials. The stability bar at the back prevents the uprights in this camouflage luggage set from titling over. Even the tote bag in the Rockland 4 Piece Luggage Set is durable with full interior lining.
This tote bag includes detachable and adjustable non-slip shoulder strap for carrying comfort. 
Rockland 4-Piece Luggage Set:
Deluxe 4-piece expandable luggage set
Heavy-duty polyester and PVC backing
Includes large upright, medium upright and carry-on upright
Also includes carry-on tote bag
EZ-Roll inline skate wheel system for smooth ride
Push-button self-locking internally stored retractable handle system
Luggage handle is ergonomically designed and padded for comfort
Top and side comfort grip handles
2 front full size zipper-secured pockets
3 internal organizational pockets for all your traveling needs
Each upright's interior is fully lined
Pewter heavy duty industrial hardware
Back zipper security pockets
Stability bar to avoid tilting
Carry-on flight tote bag has full interior lining
Detachable and adjustable non-slip shoulder strap
Spacious main compartment
Carry-on upright: 19″ x 13″ x 8″; expandable to 10″ and weighs 6 lbs.
Upright: 24″ x 16″ x 9″; expandable to 11″ and weighs 7.5 lbs.
Large upright: 28″ x 18″ x 10″; expandable to 12″ and weighs 8.5 lbs.
Carry-on flight tote bag: 14″ x 11.5″ x 5.5″ and weighs 1 lb.
reviews
The color is bold. The quality is good. Love the various sizes. The cost is a good value. I purchased the set for my two teenage boys to share. They are happy with it.
It's definitely nice for the price. J.C. Penney's camo luggage was around the same price but only a 3 piece. I'm enjoying this luggage & by the way the wheels haven't fallen off either.
I really liked the camo luggage set. They are made well and a very nice size set. The only complaint that i have is that the were suppose to have locks but didnt come with any.
get a lot for price. seem really nice. ive only used once so far but did the job!
I was pleased with the set. It was as roomy as I was expecting. I like the colors. Will try it on a trip this weekend.
Bought this luggage for my son's 23rd birthday. He loves that the set has three sizes of wheeled pieces to choose from depending on how long his trip will be. Also thencamo print is easy to spot on the baggage claim wheel.
I was really looking forward to receiving this so I can spend weekends in Vegas with it. I use it all the time and it works really well. I love the design and plan on using them until I have to replace it.
Why is this product listed as having spinner wheels? They are in-line skate wheels. I bought this for my parents to make it easier for them while traveling so this was one of the most important features. I will be returning them this week and buying a replacement.
Lightweight yet extremely durable High Tech Molded hardside provides maximum impact resistance The ABS hard-sided material gives the luggage greater rigidity so that it will not permanently deform whe...