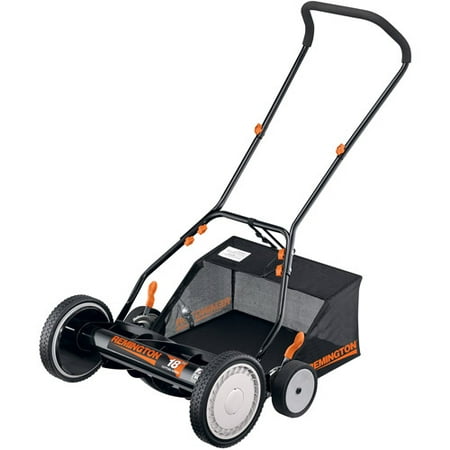 The Remington 18″ Lawn Mower is compact in size but packs a big punch. The Remington mower features an ergo adjustable handle for comfort and five blades of steel for a clean, earth-friendly cut without the emissions of gas powered models. This reel mower has dual lever height adjustment making it easy to find the height that works best for you. This easy rolling Remington 18″ Lawn Mower is the ideal choice for any smaller yard with flat terrain. The Remington mower also includes the bag.
Remington 18″ Reel Lawn Mower:
Includes bagger
Earth-friendly: cut without the emissions of gas power
Compact size with ergo adjustable handle for comfort and ease of push
Model# 15A-3100783
reviews
Good little mower timely delivery great product
The mower was easy to assemble, use and cuts extremely well. I started with overgrown grass and adjust height to work down to a nice level. very easy.
I search for about 2 days on which push mower I could get for the price range of $70-$100 and this was the best option. The reason is that it's 18″ wide and that can cut a lot of grass and it comes with a clipping catcher which is a bonus. The blades cut really nice and the assembly is a piece of cake. The only thing bad I can say about this mower is that small objects like twigs can stop you, but if you're going fast enough you can usually just snap them and keep on pushing through. Also a quick tip for everyone looking to get a reel mower; make sure you have every twig and small object out of the way in your yard before you start mowing. Best use of this push reel is in small yards. So far I'm more than happy with my purchase and would buy another one.
Very good for small area and I have electric trimer but this work very good.
I have a TINY yard, and no shed or basement. I didn't want to keep a gas mower inside my home but had nowhere to store it outside. So I got this manual mower. It does and does not do certain things. It does NOT get every weed. It does NOT do hills. It does NOT work as quickly as a powered mower. What it does do, and do very well, is provide me with a convenient hassle free way to maintain my yard. I get my hill and any strays with an electric weedeater, and the reel mower takes care of the flat part of my yard. It is exactly what I needed and if you live in town with a smaller flat yard it will serve you well too, as long as you have realistic expectations of what it works best on. Also the grass catcher is unnecessary l, it fills up too fast and the mower spreads the cuttings wide enough to render it pointless. It does keep grass off your shoes, but I don't care about that. A little grass is definitely not the worst thing to get on my boots.
Machine does NOT anything, even with multiple passes. The "grass catcher" doesn't work because the blades don't spin fast enough to cut anything. Unless you want a unique workout routine, this product gives you zero satisfaction.