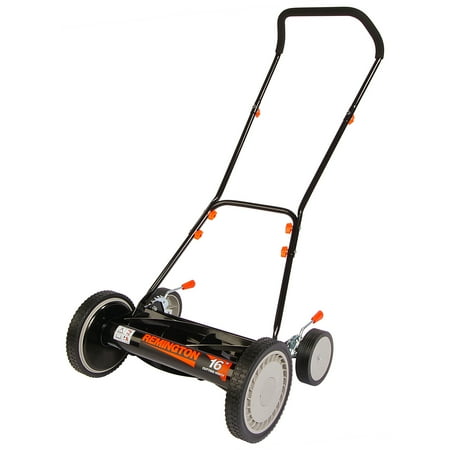 The Remington 16″ Reel Lawn Mower is compact in size, but it's a reel mower with real mettle to it, Featuring five blades of steel for a clean, earth-friendly cut without the emissions of gas-powered models, the easy-to-push machine is handy for smaller jobs. The dual-lever height adjustment on the 16″ reel lawn mower makes it simple to find the the length of grass to cut. Easy rolling is the ideal choice for any smaller yard with flat terrain. The Remington lawn mower can make quick work of keeping your landscape neatly trimmed. Use it as part of your main lawn care or as a supplement for tight areas. It can be used with ease by practically anyone. The padded handles provide a cushion as you mow to help reduce hand fatigue. The Remington 16″ Reel Lawn Mower will work whether rolling it forwards or backwards, and the adjustable blades ensure you get the precise height on the grass you are mowing.
Remington 16″ Reel Lawn Mower:
Earth-friendly: cut without the emissions of gas power
16″ reel lawn mower has a compact size with ergo adjustable handle for comfort and ease of push
Remington Lawn Mower model# 15A-3000783
reviews
great for a small flat yard, easy to put together, no gas!!!! just clean it and store away.
Just like any hand mower it takes a little work, but does the job like a champ
Purchase a Murray lawn mower earlier in the year was a mistake that mower stop working after 3 times I should have purchases this push lawn mower it works very good cuts grass very good
It makes a loud nose and squeals but I get the job done. I don't have a very big yard, if I did would not use it. Good exercise.
So far, it's perfect for our small yard. Sometimes it takes a good push to get it moving, especially uphill, but once in motion it is smooth sailing. It is not flimsy as I feared. It has some heft to it and cuts the grass well – nice sharp blades. My only worry is if it will rust in this humid, tropical climate. Time will tell.
Set-up out of the box was easy. Cuts well. Upper and lower handles are a little flimsy, but for small cutting areas (and not deep/thick grass), this definitely gets the job done.
I am all about doing what is right for our environment and this just seemed right. I have used this mower for 2 seasons now and still love it. Easy to use, store and clean. No fumes and no need to pull start. Can get a little noisy when I go on uneven parts of my lawn but not too bad. I would buy again.
There's one feature that I don't like. It doesn't cut the already tall grass.
I borrowed this 1 year old mower from a buddy. It is a great mower if you've been too happy, and need to be unhappy. Weeds wrap around the wheels like so many shoe laces tied together holding you back in abeyance. The thing simply does not live up to all the hype of the 5 star positive reviews, seemingly like someone is "stacking the deck" to sell this junk.