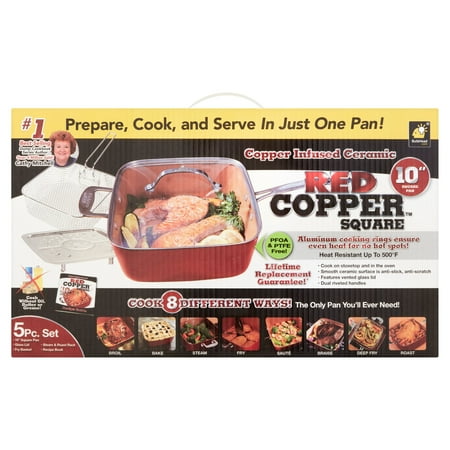 10″ Square Pan Set
Cook 8 Different Ways! The Only Pan You'll Ever Need!
Broil, bake, steam, fry, saut, braise, deep fry, roast
Glass Lid
Tempered glass lid with easy comfort handle and steam release hole. Use on the stove or in the over up to 500 F.
Helper Handle
Easily lift heavy dishes to and from the oven
Aluminum Cooking Rings
Provides rapid and even heat distribution
Copper Infused Coating
Nothing stick to the pan
Cook healthy without butter, oils or chemicals (no PFOA or PTFE)
Riveted Handles
Strong and durable
Oven safe
5 Layer Construction
Multi-layered construction adds to long lasting design
1-Top Layer
Clear ceramic coating
2-Base Layer
Copper infused ceramic – anti-stick, anti-scratch
3-Aluminum Core
Advanced heat balancing core for even heat distribution
4-Outside Layer
Heat Resistant up to 500 F
5-Bottom Layer
Product Features
Prepare, cook, and serve in just one pan!
#1 best selling dump cookbook series author over 4 million sold! Cathy Mitchell
Copper infused ceramic
PFOA & PTFE free!
Aluminum cooking rings ensure even heat for no hot spots!
Heat resistant up to 500F
Cook on stovetop and in the over
Smooth ceramic surface is anti-stick, anti-scratch
Features vented glass lid
Dual riveted handles
Cook without oil, butter or grease!
BulbHead.com
2016 Telebrands
Directions:
Instructions: . Use caution and only handle with oven mitts while carefully removing from the oven.
reviews
This pan absolutely lives up to its claim BUT you have to season it before you use it! Simple to do, just read instructions that come with it! So easy to clean too! I ended up buying the whole set!
The pan doesn't live up to the claims made that nothing sticks. Applying oil helps, but there will be some sticking.