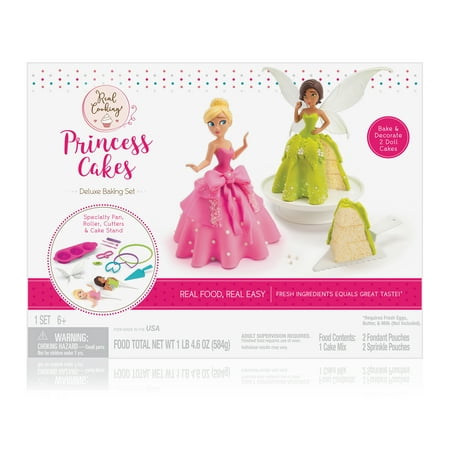 Bake and decorate an elegant treat worthy of royalty. The Real Cooking Princess Cakes Deluxe Baking Set makes it easy with the tools, cake mix and step-by-step instructions you need. Add your own fresh eggs, butter and milk. Create perfectly proportioned cakes, tailor-made for two stunning princess cake toppers. Use the sets simple utensils to dress your princesses in tasty fondant frills and sparkly sprinkles. Like everything else in the Real Cooking world, the Princess Cakes Deluxe Baking Set is Real Food, Real Easy.
Specialty utensils are real and can be used again when baking other treats at home.
Food contents: Cake mix, pink fondant, green fondant and two sprinkle pouches.
Includes a specialty pan, roller, cutters, cake stand and rolling mat.
Comes with doll cake toppers for a pink princess and green fairy princess with wings
reviews
My daughter absolutely LOVED making the fairy cake! Truth be told, I also had a blast, as did another (adult) friend of mine that insisted on coming over when I told her that we were baking princess cakes. The entire baking set, from the tools to the fairy and princess bodies, is just so stinkin' cute. My daughter is almost five and was able to handle most of the baking and construction elements (she really only needed a hand with rolling the fondant out to a uniform thickness) on her own. She did a great job pouring and mixing, but her favorite part was definitely decorating the dress with "pearls and sparkles." Her brother's favorite part was eating the finished cake, which was quite tasty! Tips: You only make one cake at a time. We were a little confused about this, because although there was only one stand, the ingredients for both cakes came packaged together. I ended up getting out a bunch of containers to save the ingredients for the next round; I'd suggest that the manufacturer either package the ingredients for each separately or include two cake stands so the cakes can be made at the same time (or both, since some families might want to keep one cake to make in the future, while others will want to make both together, as they're fairly small). When you roll out the fondant for the skirt, you want it as wet as you can make it without it getting too sticky; our skirt was too dry and cracked a bit when we tried to drape it over the cake (we pinched it together and it still turned out looking fabulous). Make sure you place your cakes right in the middle of the cake stand! Ours was off a little, which made it a bit difficult to find the hole when it came time to insert the doll's body. My little one and I can't wait to make the pink princess this weekend!!
My daughter loved making these sweet treats together! So much fun! Perfect gift for a birthday or Christmas.
Real Cooking Cake Pops and Cones Baking Set: Kids' baking set includes mixes for 4 cake pops and 2 cake cones1 cake mix pouch2 confectionery candy pouches1 sprinkle pouchCustom silicone pop tray2 sili...