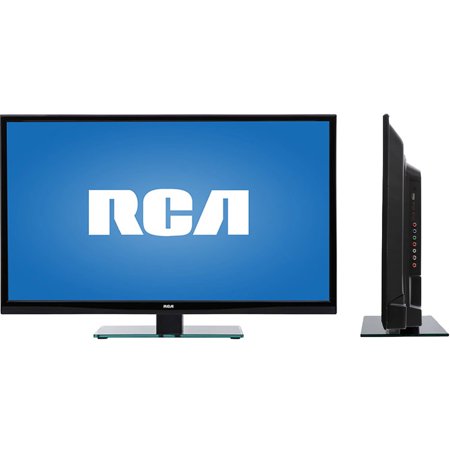 The RCA 32-inch Class LED HDTV/DVD Combo (LED32C45RQD) features a brilliant 1080p Full-HD picture for your viewing pleasure. You can connect up to two HD devices to this 3.1-inch Ultra-Slim LED HDTV via the provided HDMI ports. A built-in DVD player lets you watch your favorite movies conveniently and without any additional equipment. This RCA 1080p 60Hz Full HD LED TV features a digital tuner, so you can watch your favorite digital and HD digital broadcasts without purchasing a signal converter. Wide viewing angles mean that you'll get a clear picture on the RCA 32-inch Class LED HDTV/DVD Combo from almost anywhere in the room. With a true 16:9 widescreen aspect ratio, this 3.1-inch Ultra-Slim LED HDTV lets you enjoy movies, games and shows the way they were filmed.
Designed for convenience and performance, this 1080p 60Hz Full HD LED TV makes it easy to relax after a long day with its multiple built-in sources of entertainment, as well as two HDMI ports for connecting your computer, game console or other HD device.

RCA LED32C45RQD 32″ 1080p 60Hz Class LED HDTV/DVD Combo:
32″ LED panel
With a 1920 x 1080 Full HD resolution
True 16:9 aspect ratio
View your movies as the director intended
Wide 176-degree vertical and 176-degree horizontal angles
See a clear picture from anywhere in the room
Built-in digital tuner
Watch digital broadcasts, including HDTV programs where available
HDMI Inputs: 2
Enjoy a superior HD experience with HDMI, the one cable audio/video solution
31.5″ screen measured diagonally from corner to corner
DVD player
Watch DVDs conveniently
Reviews
Just love this t.v. super nice picture and sound. it has a quick set feature which is cool so it was not a hassle to just sit back and watch.
I have always liked RCA products, and this TV/DVD proved to enforce this comment! It was very fast and easy to set up, and the picture and sound features far exceed my expectations! For the price this was an exceptional value!
This is a great TV. With the DVD, plus a Roku 3 and an amplified indoor antenna, I continue to live without cable and love it. I can receive 100 channels, stream Netflix, plus other Internet data. The quality of the 1080p picture is superb, setup and operation is simple and straight forward. The sound isn't quite loud enough, but that wasn't a problem after adding small amplified speakers. Positioning the antenna for maximum performance was the hardest part, but still simple. Running the easy setup after every re-position (in a window) assures maximum performance. So far, I can't ask for more, unless it's for help in moving the CRT TV it replaced, less than 20 pounds versus almost 100 pounds.
TV arrived on time and was not damaged as was the case in many reviews I read. Perfect size for a bedroom wall mount, and built in DVD feature is great for eliminating additional component equipment and saving space. The sound quality is not fabulous, but is fine for my needs in a small space. I'm sure the addition of a surround sound system would solve this small inconvenience if volume is a major concern. Love this TV and love the price!
First off:I ordered this product on a Thursday, Shipped Friday and got here Saturday(when it wasnt supposed to arrive until that next Tuesday) Very impressed how fast it got here. Overall TV is great so far. Decent picture, I like the combo aspect and the 1080P aspects. This 32 inch TV Is great overall–No issues. Sound can be a little low, but admittedly this TV sits on my desk and I sit like 3 feet away from it or less like 95% of the time, so this isnt noticeable for me. You can certainly turn the TV up enough to hear it from across the room, so I don't think this should be a real issue for most buyers(unless the TV is way far away, in which case you probably want a bigger tv to begin with). I will say height/size wise, this is smaller( a good thing) than most other 32 inch tvs, which means it takes up a few inches less space overall–can fit more places. We also have a 32 inch LG TV and it barely fits on my desk, but with thi I have like 3-4 inches of easy clearance to my top shelf. A great TV overall and I do recommend it. I think this is a solid TV–Not sure on longevity as I have owned it 2 weeks, so I can't comment on that, but this is a solid TV in terms of everything it brings/gives for the price.
I'm very happy with this tv, however, the first one I purchased had a defective DVD player and Wal-Mart took it back in-store since it cost under $300 (much easier than sending it back). The second one I purchased works perfect.
Got the TV, hooked up to my cable – and only the basic cable channels would appear. Called the manufacturer, only to have a very rude techie tell me that I had to wait until the next day (once my product registration was thru??). So, I put a movie in the DVD player that night (worked ok). Next morning, no picture (only sound), and my DVD won't eject. Called manufacturer again, only to be told I had to call another number (again, the rep was rather rude). Called the other number – left a voicemail (no one to answer?); never received a call back. The next day, called the manufacturer again; this rep was helpful and knew what he was doing (must be the weekend crew that actually helps folks it seems). Long story short, in a few minutes he told me that the TV needed to be repaired / replaced, and offered to send me packaging materials so I can send back. I did return the item to the store with my DVD still inside it; couldn't get the DVD out without pretty much destroying the TV. Needless to say, I didn't want to replace the TV with another, so I went to another store and bought a TV that works. Very disappointed in the product and the manufacturer's customer service; don't think I'll be buying any RCA product in the future.
RCA LED32G30RQD 32 Class 720P LED LCD/DVD Combo HDTV
Proscan PLDEDV3285 32" 1080p 60Hz LED HDTV:32" LCD panelWith a 1920 x 1080 Full HD resolutionTrue 16:9 aspect ratioView your movies as the director intendedWide 178-degree vertical and 178-degree hori...