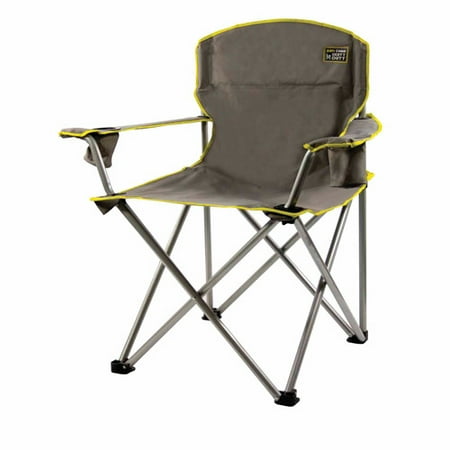 This Quik Chair 1/4-Ton Heavy-Duty Folding Armchair is designed for maximum comfort and durability wherever you happen to be. It has a 25″-wide oversized seat and large-diameter steel tubing for extra strength. This heavy-duty camping chair has a weight capacity of 500 lbs thanks to its steel frame construction. There are two layers of thick polyester fabric on its seat and back to keep you comfortable, and there are two large cup holders. This Quik Chair 1/4-Ton Heavy-Duty Folding Armchair even folds compactly and fits in an included carry bag with a strap. Take it with you to the beach, to the park, on camping trips, on vacation or while just hanging out in your yard.
Quik Chair 1/4-Ton Heavy-Duty Folding Armchair:
Sturdy steel frame construction supports 500 lbs
Oversized seat and back gives extra comfort and stability
Opens and folds in seconds; easy to use and store
Folding camping chair includes carry bag with a shoulder strap
2 layers of extra heavy-duty 600D polyester fabric on seat and back
Dual oversized cup holders
reviews
By far the best camping chair I've ever bought , very strong and comfortable, specially for us big boys or girls, I would definitely recommend to anyone that's looking for a heavy duty camping chair
This is the perfect chair for the picnics, outdoor concerts, parks, etc… for me. I am a plus size woman and usually worry about the standard camping chairs collapsing with me sitting on it. No worries with this chair; I spent my time enjoying family and friends instead of wondering if I was too heavy for a chair. The only thing that I didn't care for was it was too manly looking but I put my own little touch to it and gave it a more feminine flair. I painted yellow flowers on the front and yellow flower & my initials on the back and on the bag. Would I recommend this for those 200+.
I needed a folding chair to have in my car for summer activities – picnics, concerts, sporting events and wanted to be sure it would easily hold my weight. This chair may have been "over kill" because I am no where near even half of the maximum weight, BUT it is great. It is very sturdy, easy to get up/out of and very comfortable. I have had no issues with the stitching raveling/breaking like some buyers. I am well pleased with my purchase.
I'm a big gal (280+ pounds), and have always been scared to death of sitting in one of these camping chairs and it collapsing under me. Not anymore. This chair is rated for 500 pounds, so that reassured me, and when I got it and tried it out? It is one of the most comfy chairs I've ever sat in on the patio. If you're short like me, you can still reach the ground with your feet, which I also appreciate. 🙂
I had been watching this chair for a while hoping the price would come down on it. When I noticed the price was more than half off the original price, I jumped on it. I bought two. My husband is a large man so I needed one that was strong and sturdy. I took advantage of the two day free shipping. They arrived quickly. My husband opened up the first one and noticed one of the drink holders were not stitched correctly, that is why I only give these four stars. He sat in it and was quite happy with the sturdiness and room in the seat. I tried it, I don't care for chairs like this because they are too hard to get out of. I have a bad leg and can't get out of most camp chairs without help. When I went to get up from this chair I had no problem at all. The material and stitching is strong. Other than that cup holder these are well made. I recommend them to anyone who is large or tall as they are easy to get out if and your knees are not in your chest like most of these chairs. As far as the cup holder goes, I can stitch that myself.
My husband is well over 300lbs this chair is light enough to carry w/ease, and you don't sink when you sit in it. Awesome product, Highly recommended, well worth the price.
This is a killer big heavy duty outdoor chair made for big folks like me. I am 300+ and this chair is awesomely well built for big and heavy folks! 5 stars!
It Does Hold Heavy Weight And Does Not Move Around When Sitting In It… You Have To Be Very Careful Getting In And Out Of It As It Will Tip…. It Hurts My Legs Where They Lay Across The Frame… Was Suppose To Have Extra Padding All Thru The Chair….. No!!!!!! Good Luck On Finding Any Padding…..