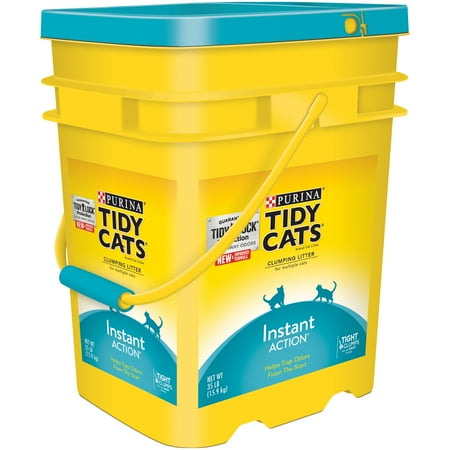 Tidy Cats Instant ActionNo time to waste? No problem. Instant Action is designed to trap odors from the start. And with Odor Erasers in the mix to neutralize ammonia and tackle feces and urine odors, you can rest assured itll work as quickly as you do.
Helps Trap Odors from the Start.Strong Clumps, Easy Clean Up.Locks In Moisture Powerful Odor Control.99.6% Dust Free.
Indications: 
Animal Health Concern: Hygiene
Warnings: 
Warning Text: Products is filled by weight; some settling may occur. Note: We want to remind those with suppressed immune systems and pregnant women that a parasite sometimes found in cat feces can cause toxoplasmosis. Please wash hands thoroughly after handling used cat litter. Encouraging your cat to use an indoor litter box, or properly disposing of outdoor cat feces, is beneficial to overall water quality. Please do not flush cat litter in toilets or dispose of it outdoors in gutters or storm drains. Used litter is not recommended for garden use. Caution: Replace lid after use and store out of reach of pets. Open containers may present a remote safety risk to unattended cats or dogs. Children can fall into bucket and drown. Keep children away from bucket with even a small amount of liquid.
Ingredients: 
Ingredients: Natural Clay Product with Deodorizing System.
Directions: 
Instructions: Clean the cat box with warm water and a mild detergent between litter changes. Directions:1. Pour to a depth of 34 inches.2. Removes solids daily.3. Add more litter to maintain a depth of 34 inches.
Reviews
It's the best clumping and great on Oder , also the clumps stay clumped when your scooping it out
I have tried almost every kind of kitty litter and this one ranks at or near the top of my list. I especially like the pail it comes in which I can line with a heavy duty bag and then use to discard kitty litter at clean up time while controlling odors or spills on the way to trash receptacle.
The best cat litter I have ever used. And I have tried several brands over the years, and I always come back to Tidy Cat.
Not too smelly (like that strong cat litter smell) nor dusty. Does a good job with cat odors too. I always use Tidy Cat and the blue lid is my favorite.
We have 3 cats and two of them have diabetes. Friends say they can't smell the box when they come to visit. That's worth it right there! The clumping power and odor reducing capability of this product is worth every cent!
I am SO SO annoyed with this product. I've even called in previously when I first noticed a change in the product. This is the only litter my cat has ever used and I absolutely hate it! I've wasted so much money on this product that I'm now seeking other brands that are similar but actually work. This litter no longer clumps therefore every time I change out the litter (which is every other day or so, I'm a very clean individual) I wind up dumping out the whole thing because unclumped cat urine just breaks and goes everywhere. I can't even clean out the litter box in the house, I now have to go outside and dump the whole thing and clean it every week. I will not be using this brand anymore.