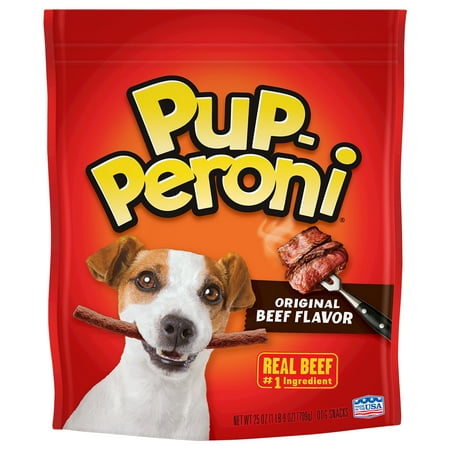 25 oz!!
Original slow cooked.
Pup-Peroni.
www.pupperoni.com
Big Heart Pet Brands.
All Rights Reserved.
Ingredients:
Ingredients: Beef, Meat By-Products, Soy Grits, Sugar, Liver, Salt, Propylene Glycol, Garlic Powder, Caramel Color, Natural Smoke Flavor, Potassium Sorbate (used as a Preservative), Sodium Nitrite (for Color Retention), Red 40, BHA (used as a Preservative), Onion Extract.
Directions:
Instructions: Feeding instructions: Feed as a snack or treat, as part of a healthy diet. Break into small pieces for small dogs. Always monitor your pet while treating.
reviews
The dogs loved them.
I have 3 dogs who love Pup-Peroni dog treats. They will do just about anything for their treat each day. My only problem with them is, they are a bit pricey, but then again, so are just about all dog treats, so I guess it's worth it.
My dog will be the best boy for a puperoni
What my dog loves she gets and she loves Pupperoni. It's a good price here.
My dogs love this stuff which is great, my only wish is that they had some nutritional value.
My dogs have eaten these since they were puppies and they are now almost 13 yrs old. They get excited when they smell them and seem to like the chewiness of this treat.
I like the Pup Peroni trats as they are soft and easy to chew for my older dog.
I've been giving these treats to my yorkie for four years. I have no complaints from her

This is one of the favorite morning treats my dogs love. They smell just like beef jerky. We always but the larger size since it is more cost effective. If I didn't know it was for my dogs, I would be eating them as well.

i like these because you can break them up and give a piece at a time. she just knows she is getting a treat, not how much it is. it more than doubles my purchase.she just loves them, and they are good to play hide the treat with!