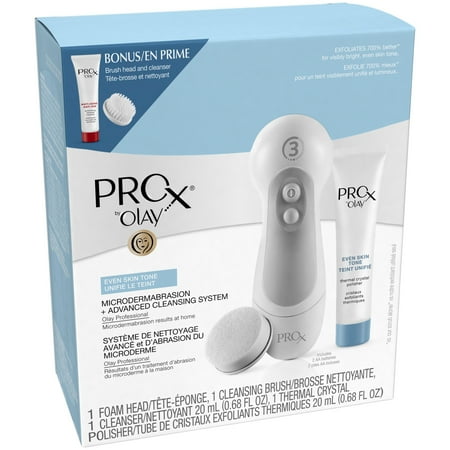 Microdermabrasion + Advanced Cleansing System3 Speeds to customize your facial care routine. After 1 Microdermabrasion use: See noticeable improvement in the appearance of fine lines, radiance, brightness, and pores After 2 Microdermabrasion uses: Visibly improved texture and more even skin tone After 5 Days of System use: Over 90% of women noticed silkier, smoother-feeling skin, and a visible improvement in dullness and overall appearance of skin 3 Speed System Daily Gentle Cleansing Speed A slower speed that gently cleanses Use with Facial Cleansing Brush Daily Deep Cleansing Speed A deep clean that's better on hard to remove makeup. basic cleansing Use with Facial Cleansing Brush Microdermabrasion Speed Exfoliates 700% better for visibly bright, even skintone.
ProX by Olay Microdermabrasion Plus Advanced Cleansing System:
3 Speed System to customize your facial care routine includes water-resistant Facial Cleansing Brush, Microdermabrasion Foam Head, Thermal Crystal Polisher (0.68 fl oz), Exfoliating Renewal Cleanser (0.68 fl oz) and 2 AA batteries
Dermatologist-designed microdermabrasion and cleansing system delivers proven results at home
Exfoliates 700% better than Olay's scrub alone for visibly brighter, more even skin tone
Thermal Crystal Polisher helps gently polish away dull patches for smoother, more radiant skin
Exfoliating Renewal Cleanser provides gentle exfoliation while cleansing
Indications
:
Health Concern: Hyper pigmentation and Uneven Texture
Skin Care Concern: Hyper Pigmentation & Uneven Texture
Warnings
:
Warning Text: For external use only. Avoid eye area and direct contact with eyes, lips and nostrils. If you have sensitive or acne prone skin, consult a doctor before use. Not for irritated or broken skin. Do not use thermal crystal polisher on consecutive days and not more than twice weekly. Use a sunscreen. Keep out of reach of children. For complete warnings see enclosed leaflet.
Ingredients
:
Ingredients: Exfoliating Renewal Cleanser: Water/Eau, Glycerin, Lauramidopropyl Betaine, Sodium Cocoyl Isethionate, Polyethylene Sorbitol, Acrylates Copolymer, PEG-200 Hydrogenated Glyceryl Palmate, Citric Acid, Potassium Hydroxide, Polyquaternium-10, PEG-7 Glyceryl Cocoate, PEG-100, Disodium EDTA, Sodium Chloride, Methylchloroisothiazolinone, Methylisothiazolinone. Thermal Crystal Polisher: PEG-8, Sodium Bicarbonate, Silica Silylate, Polysorbate 20.
Directions
:
Instructions: Press system head onto connection pin until it clicks into place. Dampen facial skin and system head with water. Apply Pro-X formula to face. Turn on system. Gently massage on face for 60 seconds. Avoid eye area. Rinse face and system head with water. Advanced daily cleansing gentle enough for daily use on days when microdermabrasion treatment not used. Microdermabrasion treatments should be limited to 2 non-consecutive days/week. Replace system head as needed. Preparing the Microdermabrasion System for Use: Installing Batteries: See leaflet for full details. Gently rock battery compartment side to side while pulling to release. Insert 2 AA batteries aligning +/- symbols. Close battery case. Replace batteries as needed. Do not mix old and new batteries as unit may be damaged.
reviews
I love this little brush so much I wish they would make a larger one for the body.It keeps away age spots, wrinkles, and acne.
My skin felt amazing after the first use. Have been using it for 3 months now. My complexion has a glow and it's not as dry as it used to be.
Love this product. My skin is really beautiful. I'm 62 and everyone asks me what I'm using that gives my skin its youthful glow.
This works well for me. I'm quite happy with less black heads and gentle cleaning.
I've had this product for 8 months. I started using the microderm head twice weekly and the brush one additional weekend day. Once I started following that routine the results were incredible. This reduced the red spots from acne scars and made the product I used afterwards even more effective. I don't use the facial wash because I have another that I prefer, but the thermal polisher is amazing and effective.
After only 2 uses I can already see and feel the results. My skin looks and feels smoother, more even toned, and fresher. It's easy to use and doesn't require using a ton of product. P.S. I sure wish you had some coupons available for the ProX products.
I purchased this product since I had read good reviews on it and it was a cheaper alternative compared to a clarisonic but sadly I have not seen a difference in my skin. I have been using this product for a while without having any results and I am very disappointed to have wasted my money on something useless. If anything I feel like I should get a refund or at least get a free product of my choice.