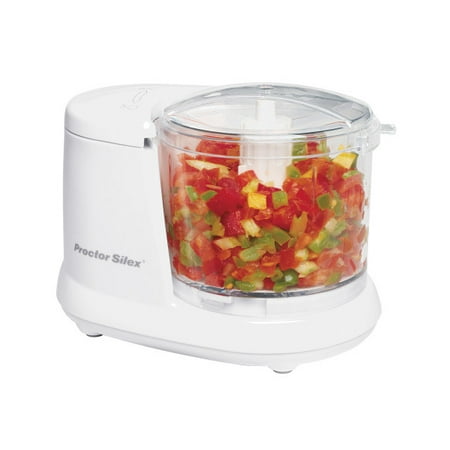 Proctor Silex Durable Food Chopper. Provides stop/start control for chopping, mincing and pureeing. Performance-tested for durability and reliability. It has dishwasher safe bowl, lid and blade.
Proctor Silex Durable Food Chopper.
Proctor Silex Durable Food Chopper.
Pulse speed control.
1 1/2 cup capacity.
Dishwasher safe bowl, lid, and blade.
Performance-tested for durability and reliability.
Can other brands say that?
Tested Proven.
1 One year warranty.
Pulse speed.
Provides stop/start control for chopping, mincing and pureeing.
Dishwasher safe bowl, lid and blade.
For household use only.
Type FC08 – 120V – 60Hz- 70W – 820196013.
Recyclable carton in the few communities that recycle paperboard.
Proctor Silex choppers are rigorously tested for durability and reliability, so you get great chopping results, vegetable after vegetable.
Mexico 01 800 71 16 100.
Canada 1-800-267-2826.
Questions?
USA 1-800-851-8900.
www.proctorsilex.com.
2010 Hamilton Beach Brands, Inc.
reviews
I cook for myself and have super sensitive eyes. Chopping onions (especially shallots and scallion roots) is a dreadful experience for me. One day, after a "oh-kill-me-already" onion chopping experience, I started looking on the Internet and came across this Procter-Silex 1.5 cup food chopper. I ordered it from Walmart because they have it priced the lowest. What a wonderful little machine! It works like a charm; I couldn't have asked for better. One twist of the lid (a 1-second pulse) is all you need to chop something up (READ THE INSTRUCTIONS, people!). Don't hold on for dear life then blame the machine for pulverizing your food, unless you want to make purees. I highly recommend this chopper.
This little monster works great! It is the perfect food processor. I wanted a very small one to use to make pesto and gravies for my family of 3-4 and this is just right, Goldilocks! And I love that it is powerful, the blade and insert are all-in-one. (In my previous food processor, the parts had to be fit together), and it's small enough to share a little cabinet with my toaster. It's worth the $15. bucks if you are looking for small and tough!
It isn't a mini food processor. Chopper is a pretty close word, but it's really one of a kind. Put in a cut-in-quarters hardboiled egg–in barely a second or so there's perfect egg for mixing with mayo for an egg salad sandwich. Some chunks of turkey breast, same thing. Makes diced up onions same way. The trick is to learn how much it likes to work with. Then how long to leave it in. You can get some chopped up vegetables to put into slaw or a salad. Some vegetables it's better to cut on the cutting board with a knife, like for stir fry, etc. What the chopper gives you is mostly the size chunks you carefully time it to make, plus another couple spoonsful of much smaller minced stuff. If you get it right you can put in some milk and some spoonfuls of icecream and make a nice, small milk shake. It would probably mix a few flapjacks worth of dry batter and milk nice and quick, and other one-of-a-kind uses. Does not suck stuff from the top down to the bottom so much as it gives you a couple "zones." Really fine chopped stuff on the bottom and all the rest a choppy average variety of chunks. Thawed frozen fruit I couldn't get to make a smoothie but it probably would if I kept it on longer. It does its normal thing very fast. Even in a processor a smoothie takes some time. I think this could make a smoothie or some hummus if you ran it a while. The blades are super sharp. Easy to move around and wash, a friendly little thing.
The chopper has a small footprint – it doesn't take up much space. It's a small little gadget. It's great for throwing veggies in & chopping them up in under a minute. It takes 30 seconds to clean. One con is that there's always some unchopped veggie left over no matter how long I leave the machine on. And if I leave it on too long, the veggie start to get like a puree. But it beats using a knife. It chops fast & I've already used it a lot after only a week or two.
This is great for me because I'm single and living on my own. It's okay but you have to watch because it can turn foods into paste if you chop too long.
It says 1 and a half cups and I could barely fit just half cup in this tiny machine! Wish I would of gone to the store and looked at it, really not worth the effort or time it took me to use this.. Also leaves large chunks behind.