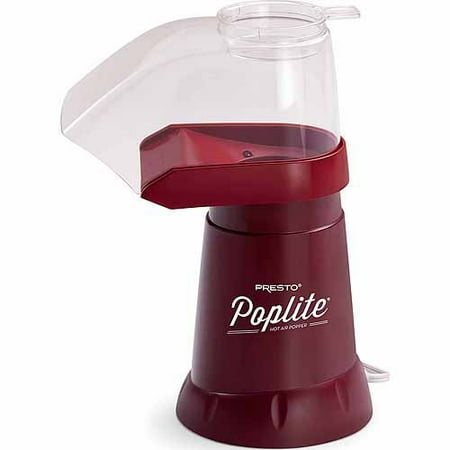 Quickly and easily make a delicious and nutritious snack with the help of the Presto PopLite Hot Air Corn Popper. Its design features a handy chute that directs the popped corn right into a bowl. This hot air popcorn popper does not use oil and makes popcorn that has up to 42 percent fewer calories than microwave bag popcorn. Additionally, this device allows you to make air-popped corn with no artificial flavors, saturated fats, preservatives or added salt. Dozens of comparative tests show that the Presto PopLite popcorn popper pops up to 30 percent faster and leaves virtually no unpopped kernels. It includes a butter melter that doubles as a handy measuring cup for making just the right amount of popcorn. 
Presto PopLite Hot Air Corn Popper:
Pops with hot air, not oil
Healthy, low-calorie treat
Offers a faster, healthier and more economical choice than microwave bagged popcorn
Use regular or gourmet popcorn
Virtually no unpopped kernels
Up to 18 cups of popcorn pops in less than 2-1/2 minutes
Butter melter doubles as a handy measuring cup
Presto PopLite popcorn popper features a chute directs popcorn right into your bowl
120V AC, 1440W
Ideal for use in classrooms, at office parties or at home
Directions:
Fabric Care Instructions: Follow instructions provided on the tag or packaging.
reviews
Our family loves it, we use it EVERYDAY. My 10 year old grandson makes his own popcorn now, its not difficult if you show them how to use it properly. Great buy….. TIP – Do not use cheap corn Kernels, you can and we have, cheaper kernels leave more unpopped Kernels. Not too many…..no big deal.
It is a great little machine. I bought two, one for home and one for our vacation house. Both worked very well, and I am considering getting a third one for my office. The only improvement one can make is to have an on/off switch.
Air popping is so much healthier—and fun!—than microwave popping. It's a great little machine that's easy to use and quick. Best of all, you can add whatever flavorings you want to make it something you truly enjoy
This works exactly as expected. You're going to get some unpopped kernels. That's just a fact. This works nicely and quickly. Very happy with the product.
Only thing I would suggest is to melt the butter in the microwave so it will completely melt. Other than that it is great. Purchased it to get away from the microwave popcorn and all those chemicals.
This popper works great. It takes about the same time to pop a bowl of FRESH corn with NO CHEMICALS as it takes to nuke a bag of microwave popcorn. I bought it to have as a healthy alternative. My ONLY negative is that this machine does NOT have an on/off switch. Iit works great and is good looking enough to leave out on my kitchen counter. I am extremely happy with the purchase.
I wouldn't buy this again or recommend to anyone it had some kernels go into the bowl the first time but the 2 time there was more kernels That should be in there and it made the popcorn stale when it was just bought don't buy it's a waste