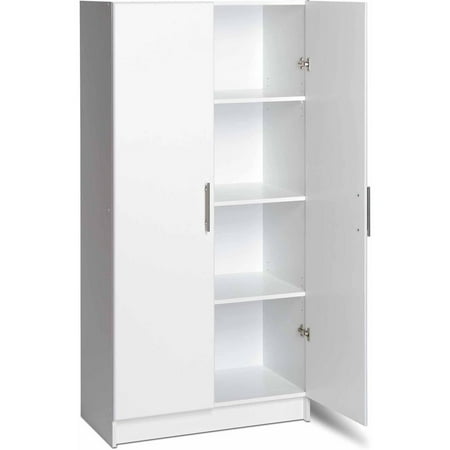 Improve the functionality of any space with the Prepac 32″ Storage Cabinet. It's made of composite wood with a neutral white finish. The Prepac storage cabinet has one fixed and two adjustable shelves. In addition, it has two full-length doors with large handles, providing an easy open and close operation. Use it in your laundry room, workshop, basement or garage to add convenient storage. It's suitable for tools, gear, seasonal supplies, cleaners, clothing and more. You can use the Prepac 32″ storage cabinet as a stand-alone unit or add the optional 32″ stackable wall cabinet (sold separately) on top for a total of 89″ of vertical storage space. The package comes with complete instructions for a quick and easy assembly.
Prepac 32″ Storage Cabinet:
Finished in durable white laminate
2 adjustable shelves and 1 fixed shelf
Dimensions: 32″W x 65″H x 16″D
Ships ready to assemble
Includes an instruction booklet for easy assembly
5-year manufacturer's limited warranty on parts
Model# WES-3264
White storage cabinet includes 2 full-length doors
Combine with the optional 32″ stackable wall cabinet (sold separately) on top to increase your storage capacity
reviews
Love the product, just what I expected. Easy to assemble, did it without my husband's help, while he was on the business trip. The only one problem was with wholes for the door latches drilled on the wrong side, other than that – love the item.
We like it bigger than what we thought it would be but looks good
WELL packaged, High quality material, easy to put together, Very stable when together. Purchased 3 of these
Made with heavy furniture quality MDF, not particle board. Easy to put together. Nice steel hinges and heavy brushed steel handles. This cabinet is very heavy. Have a dolly on hand when delivered.
Well made, and perfect for my laundry room. Removed most of the clutter for me.
I bought 3 of these cabinets and they were of reasonable quality for the price. However, the building instructions needed another page of "tips" to avoid some of the problems I encountered, and they really need better quality control. One of the doors had industrial glue in a patch on the front. When I tried to remove, the white finish was gone in an area which exposed the particle board. I applied some white paint to hide the new defect — but better quality control could have prevented this. After building the first one by myself, #2 and #3 were completed in about 2 hours each. But figuring out details which were not included in the instructions took a lot longer on the first one. Overall these were the right cabinets for our garage, but I would be a happier customer with better instructions and a door that did not need glue removal on the finish.
The cabinet shipped when promised; the box was very heavy so plan to get help to move the box. The cabinet comes packed flat and had to be assembled as was understood when ordered. The assembly instructions were easy to follow and it took me about 30 – 45 minutes to assemble and install the cabinet. I think the cabinet is as advertised on the web-site, and is worth the money paid. I would order this brand again and may order the topper for this cabinet if I need more storage space.
This cabinet was easy to put together. It should have two more shelves, which I bought separately and had to cut down. Other than that, I'm satisfied with it and would suggest purchasing it to others.
Sturdy, but just like everyone else is complaining about there is a significant gap. Like, almost a full inch of a gap that is not fixable. But then of course once you make it you don't want to unmake it and return it. So now I just have to bear with the fact that I can see what is in my cupboard.