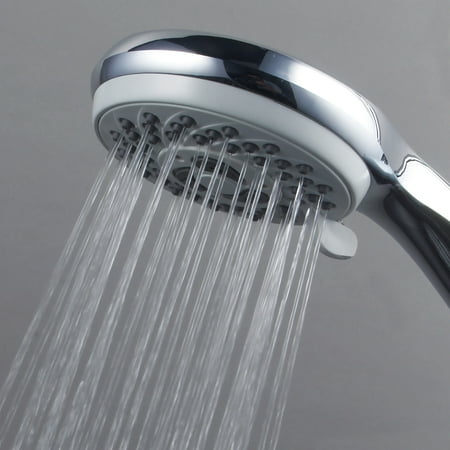 You will be amazed with the quality and power of this handheld from the moment you turn on the water. This lightweight ergonomic hand shower offers superior value and performance over every handheld in its class. It gives you more power for invigorating shower experience, more settings for greater choice of flow patterns and bigger jet dial for generous flow coverage. Its advanced three-zone dial delivers water flow with superior pressure and target precision. Pamper yourself with Power Rain, rejuvenate with Pulsating Massage or enjoy invigorating Rain/Massage combination. You can even save water with convenient Pause mode by reduce its flow to a trickle while lathering or shampooing. Rubber jets are easy to clear of calcium buildup by simply rubbing them with your finger.
PowerSpa 4-Setting Deluxe Hand Shower, Chrome:
Lightweight and compact for effortless use
Can be used as overhead or handheld shower
Spiral face design
4 full click settings including Power Rain and Pulsating Massage
High-power dual-zone PrecisionFlo dial
Rub-clean jets
Easy-turn curved click lever
Water-saving Pause mode
Includes angle-adjustable overhead bracket and shower hose
Tool-free installation
Limited lifetime warranty
Model# 8004
reviews
Better than I thought it would be, for the low price! The hose for my use is plenty long, and is surprisingly flexible. If you have low water pressure, you can remove the flow restrictor in the base of the shower head, per the instructions. You did read and keep the instructions?
I bought 3 power spa hand held to try out but all had 59-60″long hoses so all were returned. I need longer. This is such a great deal, looks high end. too bad for me.
For the low value price, it works great!!! I do wish the hose was a little more flexible.
Its a regular shower head with multiple settings that does the job for a low price
It does its job, but the holder itself doesn't. I don't know if it's because it's plastic but the showerhead sometimes will swivel to the left or right. Also, the hose is too short. I wanted it to be able to give my dogs a bath. It'll do for now.