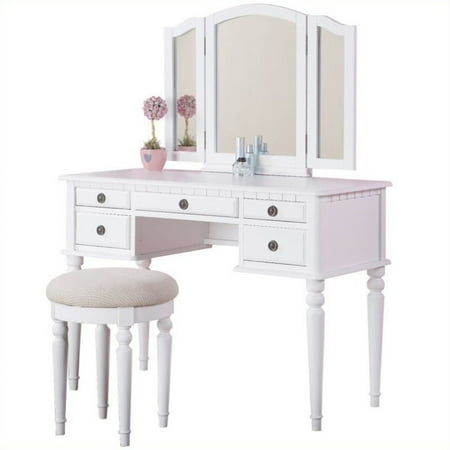 Poundex Bobkona St. Croix Vanity Set With Stool In White Poundex Bedroom Vanities White New Transitional A fluid design of feminine accents and allure, the "St. Croix" vanity set collections comes in a variety of wood finished colors. Each table features a foldout mirror with extensions on both sides to catch all the right angles. The "St. Croix" also includes five-drawers for storage and a matching stool covered in a lavish plush fabric. You will receive a total of 1 desk and 1 chair; Mirror with attached moveable externsions; Total five space for an array of cosmetics, jewelry and beauty supplies; Material: Wood and Fabric. Specifications:Overall Dimensions: 54″ H x 43″ W x 19″ D; Weight: 75 lbs. .
Warnings:
Warning Text: Unable to Ship to California
reviews
I just bought this for my 17-year old daughter and we both LOVE it! It's just the perfect size for her. The quality is top notch. It was packaged extremely well. We had no problems with dents, scratches or missing pieces. VERY easy to assemble. The desk and drawers are one piece. All you have to do is screw in the legs and attach the mirror to the back. Very simple. The chair is a nice size and very sturdy. All you have to do is attach the legs. I am very, very impressed. Great purchase and I recommend this vanity set.
I am so in love with my vanity! It came much sooner then the expected date & it came in great condition! I had my brother come over & put it together he got it done in under 45 minutes ! It's very sturdy I love that it comes with a stool ! There's decent storage space there drawers are not that deep but deep enough to place most of your beauty essentials. There's plenty of space up top for my beauty supplies & additional storage that I've placed myself .. it matches my bedroom furniture beautifully ! & it's also the PERFECT size !! I couldn't be happier
I bought this for my 13 year old who very into makeup. She loves it!! The vanity itself is very pretty and fits well with her white bedroom furniture. It was very easy to assemble except for attaching the mirror you will need a drill for that. The drawers were actually bigger than I thought they would be, and they fit her pallets just fine.
I was looking for a vanity for my daughter, I found it and price was great for this item. Hr vanity was delivered and I have never had something so easy to put together. Thank you for making her CHRISTmas better.
Very well made and solid wood. The only problem, there were no holes drilled to secure the mirror. My son drilled the holes and it was fine. Just a little extra work, but there is very little assemble required. I purchased this for my 11 year old granddaughter and she loves it!!
I bought this while it was on a really good sale. It came with no damage, free shipping ! We put it together easily and my 14 yr old daughter LOVES it. Everything is solid on it. The stool is very nice as well. A great piece of furniture. People can't believe I got it at Walmart.
Although the structure and build of the vanity seemed to be solid… The vanity the company sent me was used. It had a huge hole in one of the drawers, paint peeling off of the desk part, numerous dents, & rusted screws on the back of the desk where someone had previously anchored it to a wall. I was extremely discusted. There is no way possible that the company had no idea what shape the vanity was in! I would never recommend this company!