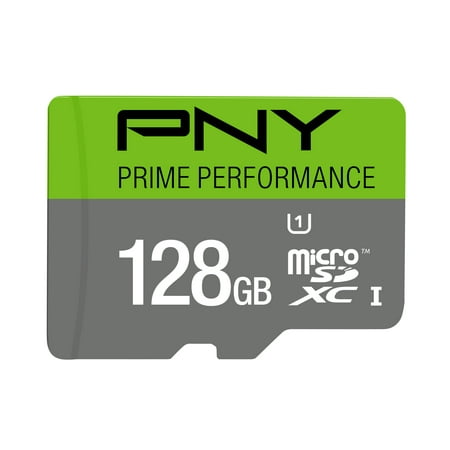 The PNY Prime 128GB Class 10, UHS-I, U1 microSD Memory Card is perfect for the latest smartphones, tablets, action cameras, drones and more. It features 128GB of storage, giving you more space on your mobile device so you can easily enjoy content such as apps, eBooks, web video, music and movies. U1 Technology is perfect for full HD video recording and HD photography, allowing you to capture high quality HD video and photos with your action camera, drone, or other mobile device. The Prime microSD card is rated Class 10, U1 and guarantees fast transfer speeds of up to 85MB/s so you can quickly transfer and share your content while you're on the go.
PNY 128GB Prime microSD Memory Card:
Read speeds up to 85MB/s
128GB of storage for videos, images and more
Great for smartphones, tablets and action cameras
U1 speed class performance allows you to capture for fast and smooth content
Compatible with microSDXC devices, most PC and Mac laptop and desktop computers
reviews
It works fine and is good bang for the buck
Got this for my wife's tablet. Works great!
I have been extremely happy with the speed, price and quality of this memory chip.
Great Price and Great item.. Helps increase storage in a little package
The price was decent, and the card's speed and capacity are what were indicated online and on the packaging. Since this is what should be expected I rate this average.
Have always been a fan of Sandisk, however today, there were none on Walmart shelves for 128GB. So thought I'd try this item. The packaging was a selling point for me, looked like it would be all that it was advertised to be. Whoa, hold on a minute, this memory card is SLOW. Just like other reviews, if you want your files to write to the memory card in this Century, your in for a very long wait. To transfer 5GB of data (Jpg's) to this memory card, took over 35 minutes. In the future, I'll stick with Sandisk, that company rocks, super lightening fast transfer speeds, of which this Iron Horse PNY can't even get out of the starting gates. Buyer beware, I'd suggest if your looking for speedy transfer rates, you'd best look at other products!