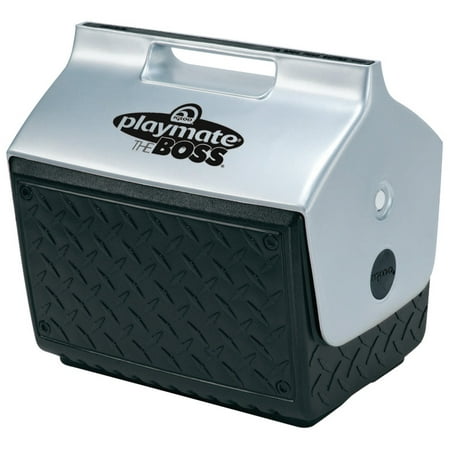 PLAYMATE THE BOSS Diamond plate exterior features a rugged texture and appearance. Trademarked tent-shaped lid with a attractive metallic-look has the side button release that locks tightly to prevents spills. Lid swings open to either side for easy access
reviews
This is perfect for a day of fun! Great for holding beverages and snacks
I got this as a present for my father in law around Christmas time. I was actually surprised at the size of it when I got it in the mail. For the price it's really not a bad item. The side of the cooler has buttons that you hold down and press. It's sturdy in material and not flimsy at all. I can't wait to see it in use. He has no complaints of it as of yet.
It's good for what is it for I run a feller buncher in the woods and need to keep cool even with 180 degree hydraulic lines next to it. Wish they'd find a way to foam the top however everything stays cold for a twelve hr shift. It is 14 qt
My husband likes this cooler. Dirt doesn't up on this cooler as bad as the white & red ones.
I love the colors and the style. The only downfall is there is no button on the top to open, it's on the side.
My son needed a lunch box that could hold several drinks, lunch and snacks for long hot summer days. The "Boss" holds it all easily without being cumbersome.
Item was shipped with obvious missing part . Returning to store for new one.
Size: Exterior dimension: 14 1/2 in Length x 10 1/2 in Width x 13 3/5 in Height Body color: Black Lid color: Gray
Snaps closed to prevents spills.