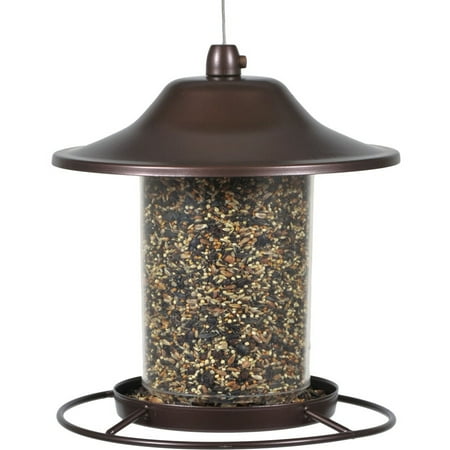 Vitakraft Bird Feeder
Perky-Pet Small Panorama Wild Bird Feeder:
Perch design allows birds to feed from multiple angles
Patented sure-lock cap system helps keep squirrels out by keeping lid snuggly put
Rustic brown finish blends in with your yard's natural environment
Intended for use with any type of seed
2 lb seed capacity
Wild bird feeder is designed to allow seeds to dispense into the tray until it is full
Seeds continue to dispense into tray as birds perch and eat them
For best results, clean Perky-Pet Bird Feeder every two weeks with mild soap and water solution
Warnings:
California Proposition 65 Warning: WARNING: This product contains chemicals known to the State of California to cause cancer and/or birth defects or other reproductive harm
reviews
I bought the copper panorama feeder and am well pleased. The hold down lock that you push in to move the lid up and down work well for someone with arthritis. I can fill it with one hand. It seems to work best with mixed seed. But, I tried it with sunflower seed and the chickadees didn,t mind working a little to get the seed out. Excellent!
Easy to clean, lid doesn't blow off in the wind, doesn't crack. Love it.
Just as soon as the cardinals (whom I purchased it for) find it we will ALL be THRILLED. The other feeders I have are to small for the Cardinals to comfortably to feed on; and now i have feral kitties running through my yard. So whilist I am trying to round up said kitties to take to Humane Society (the Cardinals can not feed on the ground) we will wait with breathless anticipation whilist the Cardinals find said feeder.
I love this bird feeder, but more importantly the birds love it! I have several types of feeders and this one is their favorite. They all much prefer this one over the others. This one is just the right size too. Much bigger and it would be really heavy to hang. I have one feeder that holds 7 pounds of seed…it is too heavy so I can only fill it about half way. This feeder is perfect. The birds seem to love the lowered perching rail. It makes it easier for them to reach the seed. I may buy another one in the future.
I bought a different type of bird feeder last year and the squirrels demolished it. I don't think they'll destroy this one any time soon.
I have three of these feeders and the black oil sunflower won't drop down in any of them. I wash them out and keep them clean. I have to manually push the seed down 2-3 times a day. Help!