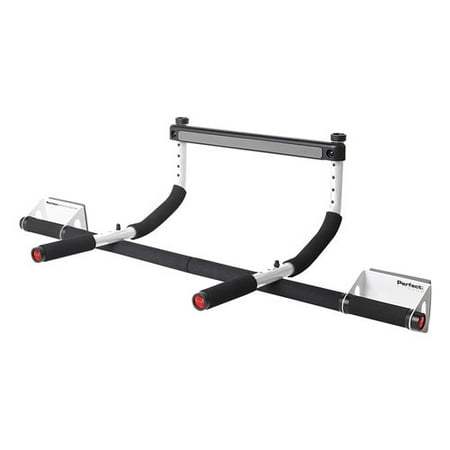 Transform your doorway into a Perfect Fitness Multi-Gym and get a total upper body workout. Use your body weight to build and strengthen your muscles. With the Perfect Multi-Gym, you can do pull ups, chin ups, sit ups and dips. It makes it easy to get the strong and lean body you've always wanted. This multi-gym is designed so you don't need to perform any complicated installations and can keep it with you if you move. The unique shape and braces help protect the door frame from wearing down unlike other multi-gyms. Included is a comprehensive workout guide with three US Navy Seal-designed circuits so you can get visible results fast.
Perfect Multi-Gym:
No installation needed
Unique design protects door frame
Fits the widest range of door frames, from 27″ to 35″
Extra-wide handles allow for true wide-grip pull ups
Includes a comprehensive workout guide with 3 US Navy Seal-designed circuits
Multi-gym pro
Reviews
My teenage son insisted he needed one of these to develop upper body and core strength. Admittedly, I was skeptical. However after some quick assembly and seeing it in person and my son trying it out, I am rather impressed. The pipes are sturdy, the padding on all mounting/touch points seems to protect door trim and paint just fine. Over all it seems very sturdy for anyone less than 160 lbs. There are multiple hand position points to work different muscles. It can also be used for pushups and dips and situps, but it is too light for situps.
Easy of installation and removal when needed. Sturdy and doesn't mark up door frame.
It took a little while to figure out which door to hook it up because I didn't realized that my doors were all angles, and close to the wall. However, once I got it set up the multi gym was a hit with the family. Everyone wanted to try doing pull ups.. we'll see how long THAT last! I like the fact that I can take it down to close the door after I'm done, and that it can be used for other exercises besides pull ups. I would recommend this multi-gym to others.
My son loves this and it is really nice to be able to take it off when not in use and store it in the closet.
Bought this for my son and he loves it. Very sturdy when in use and does not damage doors or walls. Way better than having one permanently mounted.
Things I like; regular grip, hammer grip, wide grip and extra wide grip. White non-marring trim cushion that prevents marks being left on side of door trim. Easily holds 170 lbs. Comes with basic tool to assemble. Assembly not difficult. Good value. Recommend using a chair or stool to assist with pull-ups until you are able to do them unassisted or reach past exertion.
Great product. No damage to trim work when using and no permanent installation. Soft grips for your hands. Seems to safely hold 200 lbs.
I figured out too late that the bolts came in two lengths. After I accidentally put a longer bolt where a short one was needed, i tried to unscrew it. Its impossible to do. I use pliers to try to keep the bolt from turning as I turned the nut, but that didn't work. After about 20 minutes of trying reasonable ideas, i decided to just smash the bolt with a hammer 40-50 times to bend the bolt so I could turn the nut, That didn't work either. (bolt kept turning even at a 90 degree angle. I was then forced to use a blow torch to heat the bolt up so much, i could cut the other side of it off and remove the bolt. I then returned it and said it was missing a piece. It may work well if you actually get to the using part.