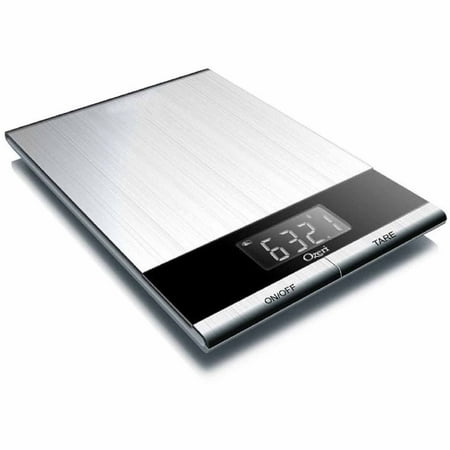 The Ozeri Ultra Thin Professional Digital Kitchen Food Scale is designed for the culinary perfectionist who desires superior accuracy in function and sleekness in form. It is also less than half an inch in thickness. It is one of the lightest electronic kitchen scales on the market and offers easy portability. It boasts an elegant stainless steel surface that is easy to clean. Two Lithium batteries are included with this Ozeri digital kitchen scale.
Ozeri Ultra Thin Professional Digital Kitchen Food and Nutrition Scale:
One of thinnest on the market, the Ozeri digital kitchen scale is only 11mm thick – less than 1/2″
Features 4 high precision sensors, the Ozeri Ultra Thin Digital Scale provides accurate measurements from 0.05 oz to 11 lbs, or 1 gram to 5250 grams
Electronic kitchen scale is equipped with 2 oversized buttons for easy operation, and a large LCD screen that displays weights in pounds, kilograms, grams and ounces
Includes a Precision Tare feature that calculates the net weight of the ingredients by automatically subtracting the container weight to calculate the weight of the ingredients being weighed
Easy to clean stainless steel surface
Includes 2 Lithium batteries and an easy access battery compartment – no screwdriver needed
reviews
Lightweight and easy to store. Converts quickly from grams to ounces. Great investment!
Easy to use and works great. Bought for low calorie based meal plan and has helped with with calorie and portioned controlled meals.
Wow this has to be one of the thinnest digital Kitchen scale ever. The scale is made from stainless steel and is only 11 mm thick. The scale can measure 0.1 ounces to 11 pounds and also in Kilograms and Grams. The Tare feature is the way to go. With the Tare it calculates the net weight of the ingredients and subtracts the container weight, which for sure takes out the guess work. With the scale you receive the two lithium batteries. It's definitely a chic looking scale. The scale is accurate, consistent and easy to read. The two oversized buttons and large LCD screen win hands down. The two buttons on the scale are to turn it on/off/calibrate and the other button is to change the unit of measurement. If you are looking for a slim, high tech scale that is accurate and has style look no further Ozeri is the scale for you. The scale looks elegant on the counter. The scale even fits right in a kitchen draw for storage. You can clean the scale by simply wiping down with a damp cloth. I am super pleased with the look, style, easy to use functions and how accurate the scale is. A high quality scale is just what Ozeri delivers. I received this to test out and under no obligation to review.
I have only been using this scale for a few weeks now, but so far, I have no complaints. I love that it came with batteries, so as soon a I received it, I was able to start using it immediately. I like that it's stainless steel, and small, so it looks good in my kitchen, as I want all my kitchen appliances to look good. I buy my ground beef and chicken in very maybe sized packages, and I like to use the scale to sepperate it into smaller portions of 1, 1.5, or 2 LB. I received this scale in exchange for my honeys opinion, and that's exactly what I'm giving over.
First of all this comes with batteries and ready to use straight out of the box. It is nice and slim and very modern looking. It is very easy to use and accurate. I like to measure things on a plate or bowl so that I don't put items directly on the scale and with this one you can put the vessel on the scale and set it to zero so that you measure your ingredients. It is great for baking too because it measures in grams and ounces.
I use this scale not for weighing any food but for weighing jewelry. Yes, I make jewelry and this is just perfect like what I need. Their slim design makes them carry easily. It has a touch screen technology and stylish design. Has and different unit options to choose from lb/oz, g, fl.oz., ml. This scale capacity ranges from 0.1oz-11lb. perfect for me to weigh from a single bead to large bulky designed jewelry. This is even helping me out with the package and weighing the boxes that I ship my jewelry in…
I'm loving this kitchen scale! It's so sleek, modern and great for everyday use. It sure has made portioning out my meals so much easier as I am trying to loose some weight. I love the big number display and the sleek stainless steal design. You can set this back to zero after placing a cup, bowl, or plate on it as well so you get an accurate amount total. Works great for weighing letters as well!!
This scale has a really good size weighing surface. I can put a dinner plate on it and zero out the scale and still see the numbers (from an angle). The buttons are large, but SUPER sensitive. It's good that it's sensitive but it takes few seconds of sitting to wait for it to zero out when you touch it. It is super light weight, feels a tiny bit flimsy at first but actually seems fairly sturdy. I like the small sleek size-it's totally flat so I can be easily stored out of the way. Overall its a great little scale. I mostly use it for mail, but have weighed food as well and it seems very accurate and consistent if you give it a few seconds to zero out.
This digital kitchen scale has such a nice sleek design to it. I love how thin this is not big and bulky. This came with its 2 lithium batteries and a guide book for Calories and U.S. Postal letter rates. I was amazed on how easy this is to use. I am trying to lose weight and learning to do calorie count and portion control and this is really helping me out greatly. I love how this does weighing with pounds and ounces as well as fluid ounces. So I am able to weigh dry food and liquids. Since this is so thin and light weight it makes it easy to store in my cupboard. To turn it off all I had to do was hold the on button till it shut off. This is wonderful for anyone like me who needs something easy to weigh food.
Includes 2 lithium batteries and an easy access battery compartment -- no screwdriver needed 4 High precision sensors Equipped with 2 oversized buttons for easy operation and a large LCD screen that d...
The Zenith Digital Kitchen Scale by Ozeri is the industry's first ever scale to combine the highest grade SUS304 stainless steel with a finger print resistant coating in an inspiring ultra-thin design...