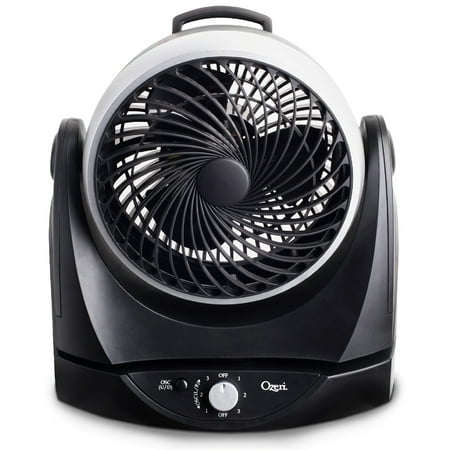 Newly upgraded the motors deliver cooling airflow with automatic horizontal and vertical motion, the Ozeri Brezza II Dual Oscillating 10″ High Velocity Desk Fan boasts an elegant design and three speeds. Its dual oscillating motors deliver airflow from left to right and up and down, liberating you from having to move or turn the fan to change the airflow direction. With the push of a button on the easy access front control panel, this personal desk fan provides automatic dual motion oscillation for the ultimate in air circulation that ensures the widest distribution of a cooling breeze and hot spot elimination. The Brezza II can also be used in non-oscillating mode and can be adjusted up to 90 degrees on its vertical axis for uniform airflow. The three speeds on this small desk fan allows you to choose between a cool breeze, refreshing wind or a more powerful stream of air.
Ozeri Brezza II Dual Oscillating 10″ High Velocity Desk Fan:
Powerful ultra-quiet dual oscillating motors
Automatic vertical (up/down) oscillation
Automatic horizontal (left/right) oscillation
Personal desk fan is ultra quiet
3 different airflow speeds
Push button access to non-oscillating mode
Small desk fan has a stylish space-saving design
Ships fully assembled
Satisfaction guaranteed
2-year warranty
Model# OZF4
Warnings
:
California Proposition 65 Warning: WARNING: This product contains chemicals known to the State of California to cause cancer andbirth defects or other reproductive harm.
reviews
I am super impressed with this desk fan. This fan is super quiet and works much better than the other desk fans i have had so far. I am really impresses with the dual oscillation feature. This fan oscillates in two directions- horizontally as well as vertically. This feature ensures even distribution of air. The fan can be used in a non-oscillating position too . This also comes with screws if you need to install it on the wall. I use it for my office table and it distributes air so evenly and could not even feel its presence as its so quiet. The black color goes with all room decor. The small and compact size is good to keep it on the corner of office table or counter top. I am so pleased with this fan and would buy another one for my bedroom.
I chose their particular fan because I have used regular store bought boxed fans for many years. I have become accustomed to having a fan to sleep at night and the box fans have always done the trick, but I wanted something different. I wanted something a little more portable, something that oscillated so the air wasn't always in my face, but still had to have the fan noise. This fan is perfect for all of my sleeping needs. It comes with 2 screws so I have the option to mount it on the wall. I however prefer to keep it on the nightstand. It not only oscillates left to right, but also up and down. Great for circulating heat or air and keeping the entire room comfortable. There is a button to turn the up and down oscillation off and on as well. It does have the "fan noise" but its not overbearing by any means. It's just enough to help me sleep at night. I have always been pleased with Ozeri products. Their customer service is wonderful and I usually get a fast response if I have any questions or concerns about my product. Along with this fan, I own another Ozeri fan, kitchen and bathroom scales, pedometers and more and I've been pleased with all of them thus far. Highly recommend!
I am so impressed with this fan. It is not only a nice looking fan, that can fit in any decor. It works very well. It is quiet when it is running. It can be run in non-oscillating and oscillating mode. The knobs are easy to turn. I am going to keep it in my kitchen. When I had it on, I could feel the breeze at the furthest point in my kitchen. It looks good on my counter as well. Great fan, very happy with it.
This is a great desk fan, its not one of those itty bitty desk fans that barely circulates any air at all. I love how this fan has the dual oscillating technology it moves up and down and turns side to side. The controls on the front of the fan easily allow me to operate the side to side, and up and down oscillation modes as well as the speed settings. The fan is on the larger side for a desk fan but my desk is quite large it has a separate area for my printer and some books so there's plenty of room for this fan. And for the amount of air it blows it keeps me nice and cool and also helps keep my computer tower cool as well, this fan's size is well worth it. The Ozeri Brezza II fan comes with all the mounting hardware so if I would ever decide to mount it on the wall I can do that. It would make a great kitchen fan if it were mounted on the wall, so I'm thinking about purchasing a second fan for that purpose. I love the handle on the back of the fan that makes it easy to move it from room to room as needed. The fan is also lightweight also making it easy to move around. Besides the amount of airflow this fan puts out I love how quiet it is. When I turn it on no matter if its on low or high or oscillating or not its whisper quiet. Sometimes if I leave the room I forget I have it on because its so quiet. There's also never any mechanical or electrical odor coming out of this fan and it never gets hot or feels hot to the touch. That is always my biggest fear when using fans is that they'll overheat and catch fire, but this one stays cool and doesn't have any odor. I can leave it on all day long while I'm working at my desk and its always cool. I'm very happy and satisfied with this modern looking fan. If I could change anything about it I would say I wish it had a remote. Sometimes I use it in other rooms besides on my desk so a remote would be nice so I could control it from across the room without getting up. I received this product in exchange for my honest and unbiased review.
Ozeri Brezza dual Oscillating 10″ Desk Fan works great! Really like that it has a carrying handle that is a nice feature to have on a desk top fan. Also having the Oscillating button to be to shut off when not needed. Is also a great feature to have. It has three levels for coolness, Low, Medium, High all them work good. I think it is a quiet fan. But we always have music playing in the background. So it sound quiet to all of us. It not huge in size. But rather a medium size. It seems to have just the right amount of airflow for its size. It does complete in the box. You also have a couple anchor screws if wanted to mount it. I found it to work well everywhere we placed it. The amount of Circulation was good! It will be great also next to a heater vent or a AC vent, you also can place it next to a window if you choose. The size works for all places. You can manual adjust the vertical angle of airflow, turn on the fan and activate the Up and Down button for automatic vertical Oscillating. It does have a polarized plug! So just plug it and it is ready to go. Disclosure of Material Connection: I received one or more of the products or services mentioned above for FREE I am disclosing this in accordance with the Federal Trade Commission's 16 CFR, Part 255: "Guides Concerning the Use of Endorsements and Testimonials in Advertising."
This fan is is sturdy, modern, and works great.  The knob on the front of the fan allows for easy to access control between oscillation mode for air circulation or non-oscillation mode for directed airflow. It has three speeds, which I usually use the high mode because it isn't as powerful as I was hoping for, but it still works great and it very quiet, even with being on the highest speed.
This fan is useless it moves no air it is not high velocity as stated my little $2 AA battery fan puts out more air don't buy it
Ozeri OZF4 Brezza II Dual Oscillating 10 High Velocity Desk FanProduct Features Newly upgraded with dual oscillation motors that deliver cooling airflow with automatic horizontal AND vertical motion
Cool down With the Ozeri Brezza II 10 High Velocity Desk Fan. The Ozeri Brezza II 10 Desk Fan delivers a cool breeze to you in both horizontal and vertical motions and with the lowest noise output in ...