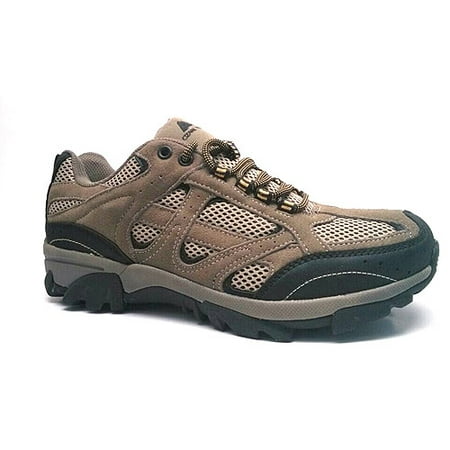 Be prepared for all sorts of outdoor adventures with this Ozark Trail Men's Low-Profile Hiking Boot. It is stylish enough for daily wear and sturdy enough for a rigorous trek outside. This lightweight Ozark Trail hiking boot also features a low profile for easy maneuverability. The neutral colors are easy to match and coordinate well with various camouflage gear and casual attire. A range of men's sizes are available. 
Ozark Trail Men's Low-Profile Hiking Boots:
Low-profile design
Lightweight hiking boots
Highly maneuverable
Primary color: taupe
Available sizes: 7.5, 8, 8.5, 9, 9.5, 10, 10.5, 11, 12 and 13
reviews
They cost 20 dollars however, it is the best 20 shoe ever. Now you may get a lemon here and there, as the rating will substantiate, but Walmart will replace them if you do. When you buy them, check out the stitching and the weld on the soles and edges. You need to mod out the laces with 550 cord. The ones provided are adequate as laces, but if they are to be a true hiking shoe, well then. Besides, the laces provided are way too long for the shoe and you'll end up cutting them shorter. But you can still use them for something, so don't throw them away. Ive got the more expensive hikers and these are my go to's, in nearly every case. Working on second pair now; no complaints. And they do come in an alternate color at the store, maybe not online. Seems the other color is darker though.
THE Best Value in a Men's Summer Hiking Shoe!! April 2017 – Needed to purchase an emergency replacement for a pair of Nike CrossTrainer that LITERALLY Disintegrated on only the second day of a week-long vacation trip. **Fortunately, my hotel was across from a nearby Walmart! ** Needed to buy this type of rugged shoe anyway for general summer wear – I no longer had a pair like this. I was Pleasantly Shocked to find this Quality pair of low-cut hiking shoes for a Mere $20 at this Walmart store – Astounding! I needed a pair of low cut, lightweight, breathable, comfortable hiking boots suitable for trail walking And long distance driving. After Sizing Carefully for maximum toe-spread in athletic socks (Can't stand squished toes during walking), I found my best size for extended, comfortable walking. I completed my vacation in walking-driving comfort, and still looked and performed new after using them on rocky terrain and on gravel. At home, I'm now wearing them as my daily casual walkers for the warmer months of May to September! Far Exceeded expectations for a Mere $20! Buy with confidence! Size Carefully, as you Should – I'm just a happy customer as per review – not a Walmart affiliate or employee.
Great outdoor walking shoes made for uneven terrain. Perfect for walking around my property and in the woods. Cost is unbelievable considering the comfort of this shoe.
I was actually looking for a new pair of cheap sneakers since my others are so worn that I had been slipping on wet floors. After reading the excellent reviews, I decided to upgrade to these Ozark Trail hikers. I went to my local store and tried the different styles on. I needed a pair that I could leave tied and just slip on because of a back injury, so the ankle-height boots would not work (can't reach to tie them at the top). I tried these out on a couple of 5-mile hikes and they are surprisingly good. The fit and feel is comfortable (not super soft, which I like better). And the grip on wet pavement is outstanding. My old sneakers immediately went bye-bye. What I really like about these is that they are casual enough to be used as everyday sneakers, and classy enough to wear to BBQ outings and the like. It's the first time my wife has complimented me on buying "clothing", so that's saying something. I have purchased a couple other Ozark Trail-branded items at Walmart (the stainless steel vacuum cup and a tent), and I think they have hit the mark with the quality and price on this line of goods.
You couldn't get a better pair of shoes for 20 bucks. I primarily use these for warehouse work and compared to standard work boots these feel like sneakers. After 3 months these shoes still look great however the outsole is starting to peel slightly from the toe. Overall great rugged shoes at a great value. Not related to this product but I hope Walmart brings back the mid top version of this boot.
These boots have not been abused and the sides of the boot are ripping from the sole. Really poor quality.
Ozark Trail Men's Low Profile Hiking Boots: Color: taupe and yellowLow profileLightweight men's hiking boots