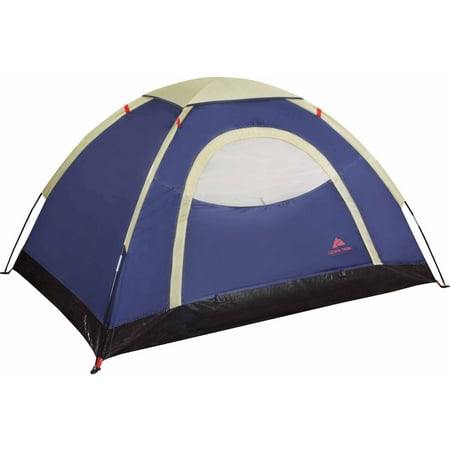 Give children their own personal space on your next outdoor adventure with this Ozark Trail Kids' Tent. It has durable and stabilizing fiberglass poles covered with a heavy-duty polyester. This kids' outdoor tent includes a weather-proof, lined bottom for added comfort. It also features a front door with a zipper closure that allows you to keep bugs, pests and the elements outside. It's suitable for camping and hiking trips, backyard sleepovers and more. The package includes a carry bag for convenient storing. Combine with other accessories from the Ozark Trails kids' collection, such as the matching chair and sleeping bag (sold separately), to enhance their level of outdoor enjoyment.
Ozark Trail Kids Tent:
Made from polyester with durable fiberglass poles
Lined weather-proof bottom
Available in 2 colors
Carry bag included
Dimensions: 72″ x 48″ x 36″
This tent is safe fun, and easy to assemble
reviews
My daughter and I spent the night in this tent, in the driveway between our cars. It was sooooo much fun
I bought this tent knowing what it was, for a specific purpose and based on its very low price. This tent is intended as a backyard, or indoor, kids play tent. For that purpose, it is a great deal. I didn't use if for that purpose. Because I didn't, I can point out a few things that are important to know. 1) The tent fabric is water repellent, but big rain drops do penetrate the fabric. It is most definitely not waterproof fabric. If it is threatening rain, you won't want to be letting your kids sleep outside in this tent. Not unless a "character-building experience" is your objective. 2) The 4 foot by 6 foot dimensions are optimistic. It definitely fits two kids, but a 6 foot adult's head and feet will push the walls of the tent well beyond the natural footprint of the tent when lying on their back, even diagonally. 3) It holds up relatively well in the wind, if it is staked down. It quickly tried to sail away when I pulled up the stakes as I was taking it down. In summary, I would have given it 5 stars except for the fact that I don't find the dimensions to be completely honest (they likely reflect assembled pole tip to pole tip measurements, which are well outside the tent itself). Just don't count on it to keep you dry in real rain or to comfortably hold an adult.
My kid loves his tent. He uses his tent to play indoor. It is perfect size and very light weight.
I bought this for my two sons, 3 and 7. They love it, it's a great value for the price, and very easy to assemble.
I bought this tent for my grand childern to play camping, indoors. They are having a ball with it. I am sure next summer, they will be out in the yard as well. Good price!!
This is a perfect play tent for indoors…our grandson is 5 and he loved playing in it–of course we made s'mores too…which just put sugar on the experience!
This is by far the most useless tent I've ever owned. It is a childs tent for starters an when I say child, I mean they are intending it for a toddler. My family went camping last weekend with our new gear and immediately upon setting up we realized that we were going to have issues. This was bought for my 11 year old son and he Isn't very tall only 48″ and he barely fit inside this tent. The twin air mattress we got for him simply would not fit at all. And after the very first day the tent ripped at the seam when I went to unzip it using almost no force at all. I do not recommend buying this for any reason unless you enjoy waisting your money.