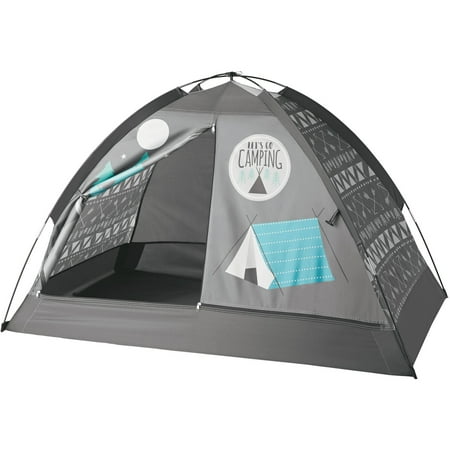 Let kids camp out for the night with the Ozark Trail Camping Tent. This is the perfect tent for indoor use. It is constructed of polyester with fiberglass poles, making it a durable and comfortable shelter. This indoor camping tent is quick and easy to assemble. A carry bag is included for conveniently transporting and storing the tent when not in use. The Ozark Trail Youth Camp Collection now fills the void between young kids' items and adult gear. The collection features a matching chair, sleeping bag and tent for each style (each sold individually).
Ozark Trail Kids Camping Tent:
Durable polyester material construction
Stylish kids design
Spacious 3′ x 5′ interior
Matching chair and sleeping bag available (sold separately)
Easy set up
OT-00074-21
Indoor Only
Measures: 60″L x 36″W x 36″H
reviews
Definitely would not use this as an outdoor tent. Maybe on a warm summer night in the backyard, but not camping. It's not very substantial and I don't even see holes for stakes. The package specifically says indoor tent, so I don't know why the description says outdoor. I did buy it for indoor use for my 4 year old to play in so that is not relevant for my purposes. It's perfect for a small chair inside and a pillow and blanket, maybe a few toys. My daughter is super excited. I don't expect it to hold up super long but it's really cute, and looks better (more colorful) than the picture. Only $15, great price even if it doesn't last long.
It is perfect indoors or outside. I recorded a CD of camping sounds, found a nightlight shaped like a campfire, and got a lantern that shines stars on the walls …. and went camping with my grandson. What makes Walmart the greatest is that it had the best prices with good quality making it affordable for this grandmother to create a such a memory.
Even though this tent doesn't seem very durable, I bought it for myself since I would be sleeping alone and didn't have the money or the people for a bigger tent. I went camping outside on gravel with this tent on about 15 different occasions and it's still sturdy to this day. My niece used it just this past weekend and it poured on us, yet she and the inside of the tent stayed 100% dry. For $15 you will get your use out of this tent if you set it up and take it down properly and don't push and pull and tear at the walls of the tent when it's up
I first ordered this tent online for sameday pickup. When I picked it up I got all the way home before realizing the rods were not in the bag with the tent. I went back the next morning and exchanged it, no big deal. We had it set up in our living room, they were pretend camping, and maybe an hour later one of the rods had punctured a hole through the strap you're supposed to slide it into. It's still usable and my kids can be a little rough at times, but all the same, you get what you pay for. This is definitely an inside tent, there is no cover over the top, where some netting is for breathability, in case it rains, also no stakes. But for play, it was a great deal.
No instructions, 2 poles missing. Absolute zero quality control with pieces missing and no instructions. I can handle the no instructions, pretty simple design – but then to not have the poles with the tent!!! waste of time, now having to return the product.