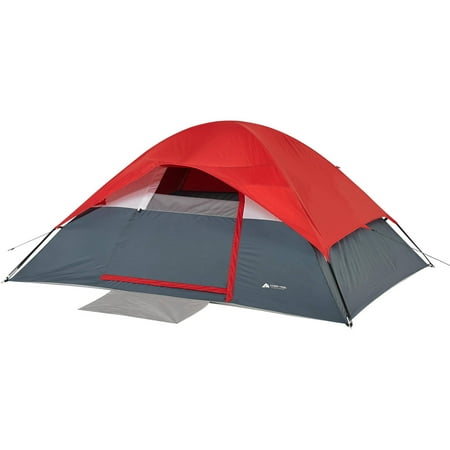 This four-person, free-standing tent is easy to set up. It features a rain fly with taped seams that rolls back in the rear to provide extra ventilation. Or, take the rain fly off and expose the full-mesh top to provide excellent star gazing opportunities on those hot summer nights. An E-port allows easy access to an extension cord, and an attached mud mat keeps the inside of your tent clean and dry.
Ozark Trail 4-Person Dome Tent:
Fits 1 queen airbed or up to 4 sleeping bags
Large mesh walls and rollback fly for excellent ventilation
Materials: poly taffeta, fiberglass, PE
Taped fly seams and inside binding floor for water resistance
Contains E-port for easy access for electrical cord
Attached mud mat keeps the inside of the tent clean
Contains 1 gear loft and 1 convenient pocket for storing small items
48″ center height
7.6 lb carry weight
Carry bag dimensions: 23.5″ x 6.25″ x 6.25″
Model# W511.1
California Proposition 65 Warning:
WARNING: This product contains one or more chemicals known to the State of California to cause cancer, birth defects and other reproductive harm.
For product questions, replacement parts or an extra copy of the set up instructions, please contact our Customer Service department at 1-800-325-4121.
reviews
We set this tent up in our living room to make sure our air matresss fit inside instead of figuring it out while camping. Our queen size air mattress fits perfectly inside. My 3 kids slept in it to test it out for us and they loved it. I think this fits much better for 2 people. It will be perfect for my husband and I for camping. Also the set up is super easy. I was able to take this tent down alone and I'm only 5'3 about 110lbs just to show you I'm kinda small and I was able to take it down on my own. I love this tent so far. It also comes with little pockets where you store personal things.
I bought this Ozark Trail 4 person tent ($40) when my boy began Cub Scouts, to use for one adult and one Scout. Great Price, Easy To Setup, Good Quality and Waterproof. One person can setup or take down in 5 minutes. To protect the zipper, I occasionally rubbed it with a bar of dry soap and it always worked smooth. I always setup the tent over a tarp, and always placed a moving blanket, inside for padding and warmth. After two years of many camp outs, the 6 mm Fly Pole broke. I replaced it with a 7 mm replacement pole from Walmart.com ($15). I expect to get another few years out of this Great Tent.
This tent is easy for one person to install. I had it up in a short time on my first attempt. It might take you a couple of tries to get the tent poles to stay in the pins when installing it solo, but that should be the only problem you encounter. This tent may show that it's for up to 4 people, but you better be really comfortable with the other 3 people. I'd say it's a better fit for 1 – 2 people. A queen size air mattress will fit, but that's about all that will fit. You're better off going with a smaller air mattress or cots if you want to have room to move around inside. The construction is very reasonable for the price. As with any tent, I recommend putting a tarp underneath to protect the bottom from punctures. The main design flaw that I found in this tent is that the rain fly has a very nice feature of partially unzipping to allow air flow through the back mesh (window) when it isn't raining. However, you can only access it from the outside of the tent. If you wake up during the night to find it raining, you have to go outside to zip the fly to prevent the rain. A zippered section under the window mesh so you could reach the fly from the inside would have been a real winner…and worth paying a few dollars more. The mud flap is a nice touch.
We bought this 9 months ago because we needed a last minute tent for my girlfriend's birthday. When we got to our campsite it was already night and I had no fun putting this up for the first time with a small dim handheld flashlight. It's an easy tent to put up but no tent is easy at night your first time using it. Fast forward to last weekend, our second time using this tent. We got to campsite early in the morning this time putting it up took about 5 minutes. We had about 20 people with us on this float trip and all got to campsite at the same time and had our tent up fastest. Lol it helps when you learned at night. At night we had thunderstorms all night and our tent stayed bone dry.
Sturdy construction. Definitely a great buy and worth the purchase price. This tent withstands 2 inches of rainfall over a 5 hour period with no leaks. After the 2nd night of heavy rain, only a tiny puddle — approx 3 tbsp worth– made it inside while outside of the tent was a swamp. It is a good idea to purchase rainproofing spray or a tarp protector for added protection. Fits a queen size air mattress but not much else. Storage pockets are well placed. Zippers are decent quality and door has two zippers for snag avoidance. Stakes are not thick enough; they bend if not hammered precisely. The seams, materials and craftsmanship is an overall 8 out of 10. Ventilation is decent– rate it 9 out of 10 with an almost entirely mesh ceiling and small mesh window on the door. Set up is easy. Price can't be beat, this is a value buy.
Four person dome tent roughly translates to "perfect space for one". There is room in there for others but ideally it's great for one, maybe two people. Anyway my in house mancave was effectively taken over by my daughter and girlfriend, so I escaped to the backyard with this tent. Got a queen sized tempurpedic bed topper in there with a heater and a setup for my iPad, pretty cozy to say the least. Be warned though, this tent isn't waterproof but does pretty well. Currently having a flash flood as I type this and the tent was mostly good save for a few leaks around the corners (I suppose due to them being staked into the ground pretty closely, design flaw?) but a few towels remedied it, no biggie.
I bought this tent because it was cheap and I didnt want to bring my 10 person tent to a 4 day music festival if it was just me that was going to camp in it. I wasn't disappointed in this tent. There was room for me and cooler and camping gear. However after all that stuff was in there there isnt room for anyone else but thats ok as I bought it just for my usage. If I was to bring someone else Id bring my 10 person tent. Also this tent was great setting up alone.
Tents leaks fell asleep woke up everything soaken wet. Will not buy again first tent to ever do that to us.