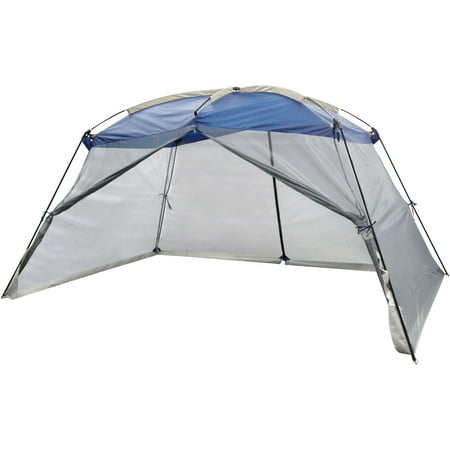 Own the 13′ x 9′ Screen House, a great room outdoors! With the comforts of a bug-free living room, you can enjoy the great outdoors and keep the bugs away. The Ozark Trail Screen House is 13 feet long and nine feet wide, with a standing space that tops out at seven feet high. The tent fabric roof provides shade for 46 square feet of the room. The Screen House is spacious enough for six people, or more around a folding table in an uninterrupted 360-degree panoramic shelter. No-see-um mesh netting walls help protect you and your family from mosquitos and other biting insects. Great way to have your meals and enjoy your time outdoors without having to worry. Best of all, it is an easy setup in under three minutes: this is perfect for your family's next adventure. This hybrid frame screen house has both steel support poles and fiberglass reinforced poles. 

Ozark Trail 13′ x 9′ Screen House (46 sq ft Coverage):
Measures: 13'L x 9'W x over 6'H
Ozark Trail Screen House is easy to set up in about 3 minutes
Large enough to fit a folding table and 6 chairs
Full width No-See-Um mesh walls
2 tall vertical zippers on opposing walls
Walls roll back from zippers for easy access and ventilation
Unobstructed 360-degree view from within
Steel Pole: fiberglass reinforced pole hybrid construction
Stakes and guylines must be set for maximum wind resistance
No-See-Um mesh walls are an excellent way to keep bugs out
No-See-um mesh offers exceptional ventilation while knocks down wind
Includes 4 steel support legs, 2 fiberglass shock-corded roof poles, 1 fiberglass shock-corded roof middle pole with end caps, screen house fabric body, 4 elbow connectors 155 degree, 4 guy ropes for added wind resistance, 10 steel 7″ stakes for screen house corners and guylines, stake bag, pole bag, handy oversize carry bag
Directions for Easy Set-Up:

STEP 1: Verify Package Contents: Verify package contents by emptying contents of bag and confirming all parts are included and undamaged. Pro-Tip: Do this at home before you leave on your trip
STEP 2: Lay Out Screen House: A. Choose a site – Level is best. Either watch video on this page or follow instructions below; B. Extend poles and sort into groups
STEP 3: Assemble Screen House: A. Place the roof poles in position for installation; B. Begin with the Roof Middle Pole and slide it into its middle roof sleeves; finish securing by inserting both pole ends into the pole pockets above each door zipper; C. Take a Roof Pole and slide it into its sleeves; then insert the end into the ribbed side of one Elbow Connector at a roof corner. Gently flex pole into an arch and secure pole end into its own ribbed side of one Elbow Connector. Repeat for the other Roof Pole; D. Place one end of a steel leg pole into the smooth end of an Elbow Connector, then secure the other end of the leg pole onto the pin-ring at the base of the screen house. Repeat for each remaining steel leg pole; E. Secure Steel Leg Poles with fabric ties on screen house fabric
STEP 4: Stake Screen House: A. Stake screen house by driving stakes through the webbing loops and pin-rings on base of screen house; B. To secure guy lines, find the guy line plastic slider and look for the knot. Pull this portion, forming a loop, then use like a slip knot. Extend guy line to the ground and stake it out. Repeat with each remaining guy line

Directions for Take Down:

STEP 1: Remove the Stakes: Carefully remove all stakes by pulling out the hook ends. Do not pull or tug at the stake loops sewn onto the webbing pocket. Remove excess soil from the stakes and store them in their bag
STEP 2: Take Down Screen House: A. Release the fabric tie from one leg pole. Lift screen and pull pin-ring out from the leg pole. Repeat for each leg pole; B. Pull one leg pole out from roof elbow. Set down gently. Repeat for each leg pole; C. Gently flex one roof pole to release from the elbow connector, then slide completely out from pole sleeve. Repeat for each pole; D. Remove middle pole from pockets; E. Collapse all poles and store them in the pole bag
STEP 3: Fold the Screen House: Fold fabric into a rectangular shape the same width as the pole bag's length. Lay pole bag at one end of the fabric and roll tightly together, slowly squeezing air out as you go. Store screen house in carry bag provided

Directions for Cleaning: wipe clean with a water dampened cloth. Air Dry
Caution: make sure all pole sleeves are evenly distributed along their poles; if pole joints catch on fabric, they can suffer undue stress causing a pole to break or fabric to tear
Warnings:
California Proposition 65 Warning: WARNING: This product can expose you to DEHP, a Phthalate chemical which is known to the State of California to cause cancer and birth defects or other reproductive harm. For more information, go to www.P65Warnings.ca.gov
reviews
Easy set-up and break down, compact bag for storage when unassembled. Simple and cost effective for what it is – a quick way to create bug-resistant outside space in the woods.
Totally happy with Screenhouse. We had a couple of stormy nights with high winds and it stayed up.
We went camping for three days and it was a big help to store are food and eat Inside . Also used it to do garage sale's and it was a hit with selling shave ice and having no moskitos.
This is a large screened in room with plenty of space for your needs! I got it because we live in Florida, and the bugs are so bad at night that you cannot sit outside and enjoy the night for the bugs. This was a cheap temporary alternative to enclosing our porch, and it exceeds our expectations! It slopes up from a floor space of 13 x 9, but it is a gentle slope that leaves plenty of head room for my 6 foot frame. We fit a table and two chairs in there comfortably, and still room left over for a fan, if there is no breeze. I found the screen to let a breeze in fairly good, when there is one. If I have any complaint at all, it is that the fabric at the bottom does not cover the grounds like it should when the tent is taut. However, for the price, I highly recommend this screen room for anyone looking for relief from insects.
This screenhouse was easy to set up in a short amount of time with 2 people. It functioned well as we put all our food and coolers inside it in the shade. Take down was easy also. For the price especially this screenhouse cannot be beat.
We use it when camping in a very mosquito-heavy area and it works super. Not sure why some folks think it's hard to put up; it's a standard tent with nothing tricky to it. I'm a female in my sixties and put it up the first time by myself in about 8 minutes. There are certainly fancier screen tents out there, but you pay a great deal more for them. This was roomy and did what we needed it to.
I had a horrible time trying to set this up by myself. I have another Ozark Trail canopy that states 2 people need to set it up but I've been able to set it up and take it down solo many times. THIS canopy – oh man, the legs just didn't want to stay up. Plus one of the elastics attaching an elbow connector to the canopy came undone. I may give it one more try – especially since it'd be such a convenient canopy to have, well if I can ever get it set up.
Ozark Trail 13' x 9' Screen House (46 sq ft Coverage) :Measures: 13'L x 9'W x over 6'HOzark Trail Screen House is easy to set up in about 3 minutesLarge enough to fit a folding table and 6 chairsFull ...