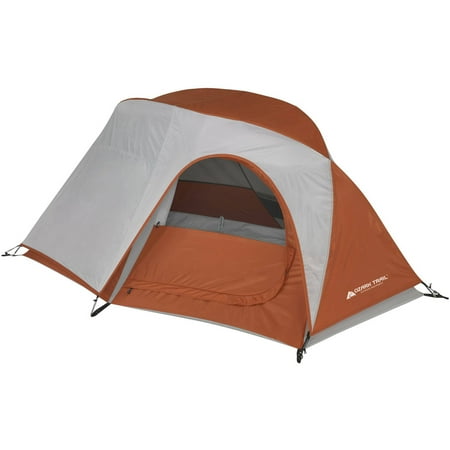 Lightweight and easy to carry along, this hiker tent has a two-pole design for easy set-up. It features a gear loft and two organizer pockets. Easy access to an electrical extension cord is provided through the built-in E-port.
Ozark Trail 1 Person Backpacking Tent:
2-pole design that folds small enough to fit inside backpack
Stuff sack dimensions: 21.5″ x 5.5″ x 5.5″
Carry weight: 4.4 lbs
Minimum Trail Weight (Tent, fly, poles only): 3.96 lbs
Set up dimensions: 7′ x 5′
Center height: 37″
Number of Seasons: 3
Sleeps 1
Includes Gear loft and 2 organizer pockets
Built-in E-port provides easy access to an electrical extension cord
Easy set-up
For product questions, replacement parts or an extra copy of the set up instructions, please contact our Customer Service department at 1-800-325-4121.
Model No.: W203.2
Warnings:
California Proposition 65 Warning: WARNING: This product contains one or more chemicals known to the State of California to cause cancer birth defects and other reproductive harm.
reviews
I purchased this tent after seeing how slick it worked for a friend, who quite cozily and comfortably fits two people in his tent. Set-up was quick and easy, taking less than 5 minutes from dumping out the bag to attaching the fly. Everything seems pretty sturdy – zippers work well, stayed bone-dry on a very dewey morning, and storage is great for keeping the sleeping area organized. The stakes are fine, but would suggest replacing with a heavier gauge. I did notice a small stress spot along one of the top attachments (see photo). I'll be keeping an eye on it and may contact the company if it stretches. Tear-down was a breeze; dries quickly, rolls tightly, and no hassle with trying to squeeze a bulky tent into a small bag. I even put my 5'x8′ drop-tarp (*purchased separately) in the bag with the stakes, poles, and tent with no trouble. Overall, I'm pleased with this tent for this price.
Bought this on a price roll-back as a back-up tent. Very light weight (approx. 5 pounds), not to difficult to set up, plenty of room for a six footer inside and stitching on seems is pretty strong. Used it once, no rain but heavy dew. Very happy with price and quality. I gave it 4 stars as it didn't come with any Solid Gold dancers.
Zipper sticks and the directions are awful, but overall it is a lightweight one person tent for warm weather.
A tent. Capable of sustaining life, but not creating it. Not capable of complex thought or emotion, but more than capable at keeping you dry. A good tent.
One you get a handle on how the support poles are set in place (they cross over one another but are not secured on the opposite side as in front to back) , the tent is easy to setup. The floor is made of tarp strength material, so you don't need to spread a tarp beneath the floor.
So I haven't camped in it yet. However I have built it indoors to test it out and I am loving the size, functionality and price point. May bit a bit heavier than my Kelty 2 person backpacker, but again for the price you really can't go wrong.
Took this tent camping at Petit Le Mans (racing). 5 days in great weather! Positives about the tent; it's light, spacious, easy to pack up. NEGATIVES; hook broke During assembly, cheap material, not enough storage inside. If it rains, water will collect in the awkward top. assembling the thing wasn't the easiest, with IKEA type directions. My advice, spend the extra money for a better quality tent.