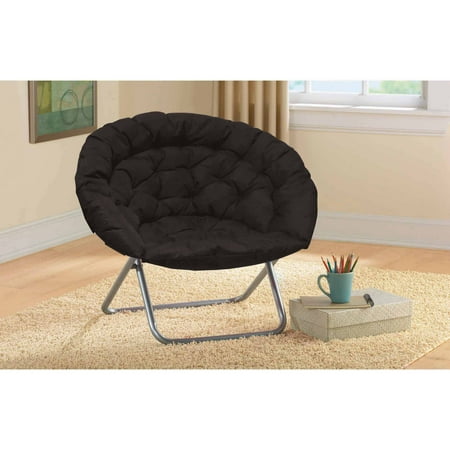 Surround yourself in comfort with this Oversized Moon Chair in Multiple Colors. This reinvented version of the traditional saucer chair has more cushioning on all sides and is wider for added appeal. The folding moon chair is made of a polyester material with fill, and the versatile design is easy to store away when not in use. This item is available in a range of colors and is ideal for use in a dorm, a den or a TV room.
Oversized Moon Chair, Multiple Colors:
Oversized for additional comfort
Ideal for dorm rooms, dens and TV rooms
Folds for easy storage
Spot clean
Made of polyester with polyester fill
Measures: 37″L x 30″W x 30″D
Saucer chair is available in black, brown, khaki, navy, pink, teal
reviews
Needed a cheap chair for temporary furniture in an apartment. It's perfect for that. Plenty big enough for me (6'2″ and 200 lb) and is good seating without spending a lot of money. As others have said the only drawback, and the reason for losing 1 star in my case, is the creaky noise it makes when you sit down or get up. If it weren't for that it would be the best $30 temp chair you could ask for. Would buy it again regardless of that though.
In the case of a dorm chair, it really doesn't get much better than this. It's large, comfortable, and I could practically sleep in it. It isn't as large as one would think, but it's obnoxiously comfortable.
This saucer chair is nicely sized and comfortable to sit in. A good value.
Bought this fun chair for when my sons teenage friends come over. It sits perfectly in the corner of can be folded up. The boys say it's pretty comfortable and they seem to be able to sit in it for a few hours. Great buy!
My husband and I bought 2 of these chairs to use for gaming. They're sturdy and comfy for lowest price we've seen.
We bought this chair for my 8 year old son. While it says "oversized," it's still not huge. It's wider than the average saucer chair, but a child fits better in it than an adult. But it will be easy to clean and he loves it for reading, and it seems to be sturdy!
I love this chair ! Absolutely great for the price ! Only down fall to it is that it is really a regular size moon chair not a oversized one !
I was so excited to put this in my dorm room but when I got the package, it looked like it had been caught in a tornado and used as a play toy for a bull. I opened it hoping the chair was at least 'mostly' okay. I was wrong. There's a hole, about the size of a quarter, in the middle of the chair. Now I'm uneasy about sitting in it in fear I'll make it bigger! Probably not a tough fix, but I shouldn't be delivered a ripped product.
Oversized Moon Chair, Multiple Colors: Oversized for additional comfortGreat for dorm rooms, dens and TV roomsFolds for easy storageSpot cleanMade of polyester with polyester fillMeasures: 37"L x 30"W...