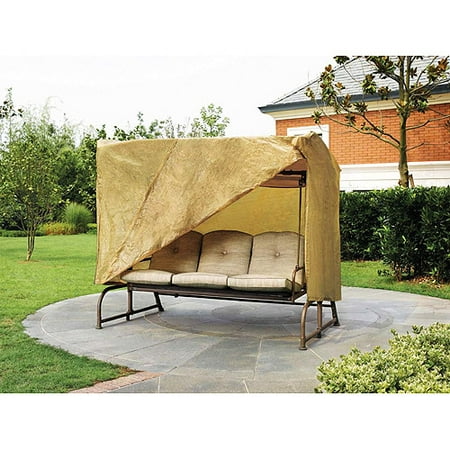 Never have to worry about shielding your delicate outdoor furniture from sudden changes in the weather with this Outdoor Patio Swing Cover. This item is large enough to cover an entire swing set. Designed with high-quality material, this canopy swing cover provides maximum protection from outdoor elements in all seasons. It fits most standard-sized patio swings and comes with sturdy metal grommets to help anchor it down to the swing itself, as well as zippers on either side to hold it in place, especially when it's windy. This protective swing cover is suitable in any climate and can be cleaned easily with just a damp cloth. It doesn't matter if the sun is high up or it's raining heavily; this cover is designed to weather different conditions and keep your precious furniture safe and dry.
Outdoor Patio Swing Cover:
Patio swing cover fits most standard-sized patio swing sets
Product measurements: 87″ L x 64″ W x 66″ H
Metal grommets anchor it down to the swing
Side zipper closure helps to hold it securely in place
Provides all-weather protection, rain or shine
Canopy swing cover cleans easily with a damp cloth
Primary color: Beige
Helps keep furniture safe and dry
Model number: 5429A
Made of high quality material
reviews
I love this swing fits my husband and my dog and I it's a great color and sturdy!!!
I had bought a cover from walmart before and it lasted a long time, this one seems like it will wear well, i have only had it on swing for 2 weeks.
This cover works. It is not the strongest material, but in most weather conditions, it works well. Our first cover lasted 3-4 years before needing to be replaced. For the price, it does the job.
The cover works great as long as you anchor it down. Our blew off at first because we didn't anchor it down. It has zippers down both sides of the Front panel. The material is like tarp
The cover is plenty big for my swing. I like the zipper. However, it blew off during rain. Second time I tried to tie it down but it blew off again. I think because it's very lightweight.
It is light, but does the job needed. For the price, you can't go wrong. I mean most of the year we have our swing uncovered so we can enjoy it, but with the rain, you have to cover it to make it last as long as possible.
This cover fits the swing perfectly. The metal grommets to help anchor it down are very sturdy. Also, I like that there are zippers on both sides; easy to put on and take off.
Would be even better if some tie downs were included or weights for the grommets – but simple to put on
It lasted only one summer (in shade). And smell soooo bad!!! Like plastic and chemicals, it has been outside all summer and still smell very strong, I am going to put it in trash, all my cushions on swing smell horrible from this cover.